My Top Ten Most Intriguing Shows (So Far in 2011)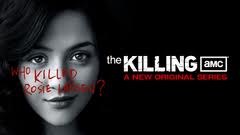 I felt it was only fitting for me to start my time on Review STL with a Top Ten List! Now by "Most Intriguing" shows I am not saying that they are my favorites, but that I am most interested in seeing exactly how these shows will develop from week to week.
Some shows not making the list include: The Big Bang Theory, Community, Parks and Recreation, Traffic Light, Perfect Couples, Mad Love, How I Met Your Mother, Dancing With The Stars, and Raising Hope
10. Rules of Engagement (CBS)
In my opinion, one of the funniest shows on television right now. The writing in the show is better than most and I am always waiting to see what stupid thing Adam (Oliver Hudson) is going to do next. I will admit that I was not the biggest fan of Rules of Engagement for the first couple of seasons, but once they added Timmy (Adhir Kalyan) to counterpunch Russell (David Spade) the show got a lot better. Finally, I think that the impending wedding of Adam and Jen (Bianca Kajlich) and the coming child for Jeff (Patrick Warburton) and Audrey (Megyn Price) have made the show more intriguing for me this season.
9. Rob Dyrdek's Fantasy Factory (MTV)
Fantasy Factory is intriguing because you never know what to expect out of pro skater and entrepreneur Rob Dyrdek. The show isn't for a lot of people but I just feel that it is one that can be enjoyed by a lot of people. Basically, all they do on the show in showcase the life and times of Dyrdek and the people who work for him at the Fantasy Factory, but it is so entertaining seeing the things the Rob and his crew actually do. This season has an added bonus because Big Black, of Rob's former show Rob and Big, has returned to the show as an added member of the factory.
8. Body of Proof (ABC)
Dana Delany plays Dr. Megan Hunt, a quick witted  Medical Examiner, and she is having troubles balancing her professional and personal lives after losing her job as a neurosurgeon because of an accident on the operating table. The show is another one of those C.S.I. type of shows, but this one is a little more intriguing because of the back story of Delany's character and I am most looking forward to see how the relationship between her and her daughter develops. Critics have also been calling Dr. Megan Hunt the "Female House" and I am looking forward to seeing if she can live up to that nickname.
7. CHAOS (CBS)
CHAOS is about a group of rogue CIA agents who are doing everything in their power to keep their jobs from being eliminated by going out on operative missions that other CIA agents would refuse to do. This is a very well written show and the acting on the show has been very good so far. I also like the fact that it is funnier than most shows of its type. The thing that makes this show most intriguing is the fact that it is a type of show that has been done before, and I am looking to see exactly how it is going to be different, or even better than its predecessors.
6. American idol (FOX)
American Idol is in Season Ten so we all know what the show is…a singing competition. The thing that makes this season more intriguing is the level of competition. This season has been one of the best in a while and I could really see the winner doing a lot of things….even though the losers are usually more successful in the long run. Another thing of interest this season is the dominance of the guys, it's usually the girls who dominate the early parts of the show but this season is down to their final eight and not a single guy has went home yet. This season has also been the point of controversy with arguably the best of the female voices, Pia Toscano, already being sent home….with a recording contract, no doubt.
5. Amazing Race: Unfinished Business (CBS)
This season of Amazing Race has been intriguing because it features teams that have been on the show before, and they are returning in their attempts to complete the race and win the million dollars associated with winning The Amazing Race. I will admit that I just recently started watching The Amazing Race last season, but this has just been a better all around season because it has had more controversy than last season and the teams are a lot stronger this year.
4. The Event (NBC)
The Event is one of those types of shows that keeps you on the edge of your seat throughout and I am always wondering exactly what is going to happen next. There are so many characters and storylines throughout each episode that it is not funny. I think the most intriguing thing about the show is I don't know how this season is going to end and I have no idea what Sophia (Laura Innes) and her people are going to do to our planet. It's kind of like a huge game of chess that is never going to end.
3. Survivor: Redemption Island (CBS)
Backstabbing and betrayal have been the name of the game this season on Survivor: Redemption Island. With the addition of Redemption Island this has been one of the most entertaining seasons of Survivor that I have seen in a while and I am looking forward to seeing how everything is going to develop from week to week. Add in Rob and Matt's pending rivalry, that has gotten Matt sent to Redemption Island twice, and the merger that occurred last week and that makes this one of the most intriguing shows on television to date.
2. Smallville (CW)
What can be more intriguing than "Superboy" finally becoming "Superman"? I've been waiting for this since I started watching this show ten years ago. So, you ask why is this not number one on this list? It's because I've been waiting ten years for this to happen! The show has had break after break after break…you never know how long you are going to have to wait for a new episode, but I am still anxious to see how everything pans out with Clark and Lois' wedding, his transformation to Superman, and the return of Lex Luther for the series finale.
1. The Killing (AMC)
Since its premiere The Killing has had my complete attention. It has so many twist and turns that you just can't predict who is going to be the next suspect in the murder case of a, Seattle based, High School student. Along with that, each episode gives you more and more details into the murder case. I think the most intriguing thing about it is that you have to watch every single second of the show just so you don't miss one single detail. I've watched every minute of it and I still can not even think to predict exactly who killed Rosie Larson.
© 2011 Jeff Siler