Tom Clancy Approves "Act of Valor" for Feature Film
Relativity's Act of Valor Gets Seal of Approval From
Best-Selling Author Tom Clancy
Studio Partners with Clancy on Groundbreaking
Navy SEAL Action-Thriller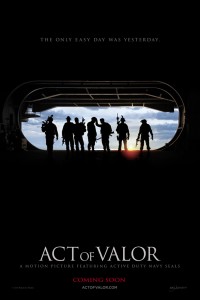 (Beverly Hills, Calif.) January 5, 2011– Relativity Media is proud to announce it has partnered with highly-celebrated, best-selling author Tom Clancy on its heart-pounding Navy SEAL action-thriller Act of Valor and an accompanying novelization of the film's screenplay. This marks Clancy's first time to present a novelization of a feature film not based on his own original work.
The film's novelization, "Tom Clancy Presents Act of Valor" written by Dick Couch and George Galdorsi, based on the screenplay by Kurt Johnstad, will be released in paperback by Clancy's long-time publisher, Berkley Books and Brilliance Audio will make the audio version available  on January 10, 2012.
In theatres February 24, 2012, the Bandito Brothers' film Act of Valor stars a group of active-duty Navy SEALs—not actors—along with Roselyn Sanchez, Alex Veadov, Jason Cottle and Nestor Serrano in a powerful story of contemporary global anti-terrorism. "These men are American heroes," said Clancy, "and when I heard about this project, I wanted to get involved and use all the resources available to me to make it a success."
Clancy's name has become a globally recognizable brand for not only his own military–thriller novels, but for non-fiction books, movies and video games.  The prolific writer has written 26 books in 20 years, each a best-seller, and is one of only a few authors ever to have sold two million copies on a first printing, along with John Grisham and J.K. Rowling. Some of his most notable works include but are not limited to "The Hunt For Red October" (1985), "Patriot Games" (1987), "Clear and Present Danger" (1989) and "The Sum of All Fears" (1999). Most recently, Clancy released two novels in 2011 "Against All Enemies" and "Locked On". Motion pictures based on his novels have grossed over a billion dollars worldwide, and his exclusive video game partnership with Ubisoft has thus far resulted in nearly sixty million game sales in dozens of countries. Clancy received the Alfred Thayer Mahan Award for Literary Achievement from the Navy League of the United States in 1990.
Clancy's passion for Naval history, coupled with his blending of realism, intricate plotting, suspenseful action, and authenticity in story-telling, makes him a natural fit to get behind Act of Valor. An excerpt of Clancy's foreword for the "Act of Valor" novelization is below:
The events in this book and movie may not always be easy to read about or watch, but it is important for us to get a glimpse into the lives of these courageous Americans, and a deeper appreciation for sacrifices they make for us.
We have an obligation to honor the SEALs and their families—not just in the event that we are fortunate enough to meet any of them one day, but by living our lives to the fullest, enjoying and preserving the liberties afforded to us because of their work.
Relativity's President, Theatrical Marketing, Terry Curtin said, "Having Tom Clancy come on board in partnership with Act of Valor is hugely valuable for the project. The association with his name, which embodies the highest standards in the military-action entertainment genre, speaks to our film's authenticity."
Produced and directed by former Baja 1000 champion Mike "Mouse" McCoy and former stuntman Scott Waugh, Act of Valor goes deep into the secret world of today's most elite and highly trained group of warriors. When the rescue of a kidnapped CIA operative leads to the discovery of a deadly terrorist plot against the United States, a team of SEALs is dispatched on a worldwide manhunt. As the men of Bandito Platoon race to stop a coordinated attack that could kill and wound thousands of American civilians, they must balance their commitments to country, team, and their families back home. Inspired by true events, the film combines stunning combat sequences, up-to-the minute battlefield technology and heart-pumping emotion for the ultimate action adventure.
The next film on the studio's growing slate is Oscar®-winner Steven Soderbergh's dynamic Haywire debuting in theatres January 20, 2012. This highly anticipated action-thriller stars Channing Tatum, Michael Fassbender, Ewan McGregor, Michael Angarano, Antonio Banderas, Michael Douglas, Bill Paxton and introduces mixed martial arts (MMA) star Gina Carano in a demanding lead role that has her performing her own high-adrenaline stunts. Haywire tells the story of Mallory Kane, a highly trained operative who works for a government security contractor in the dirtiest, most dangerous corners of the world. The release marks Soderbergh's 25th film.
Relativity's expansive upcoming slate also includes the magical adventure comedy Mirror Mirror (in theatres March 16, 2012), starring Oscar®-winner Julia Roberts, Lily Collins, Nathan Lane, and Armie Hammer. The studio just wrapped production on the comedy 21 and Over and is currently in pre-production on Nicholas Sparks' gripping love story Safe Haven and the international espionage thriller Hunter Killer.
For more information about the film please visit www.actofvalormovie.com.
ABOUT RELATIVITY MEDIA
Relativity Media is a next-generation studio engaged in multiple aspects of entertainment, including full-scale film and television production and distribution, the co-financing of major studio film slates, music publishing, sports management and digital media.  Additionally, the company makes strategic partnerships with, and investments in, media and entertainment-related companies and assets.
To date, Relativity has produced, distributed, and/or structured financing for more than 200 motion pictures.  Released films have accumulated more than $16.9 billion in worldwide box office receipts.  Relativity's recent films include: Immortals, Tower Heist, Bridesmaids, Hop, Limitless, Anonymous,Machine Gun Preacher, Cowboys & Aliens, Battle: Los Angeles, Season of The Witch, Little Fockers, The Fighter, The Social Network, Salt,Despicable Me, Grown Ups, Dear John, It's Complicated, Couples Retreatand Zombieland. Upcoming films for Relativity include: Haywire, Act of Valor, The Raven, Mirror Mirror, 21 Jump Street, American Reunion, and The Bourne Legacy.  Thirty-eight of the company's films have opened to No. 1 at the box office.  Relativity films have earned 60 Oscar® nominations, including nods for The Fighter, The Social Network, The Wolfman, A Serious Man, Frost/Nixon, Atonement, American Gangster and 3:10 to Yuma. Sixty-two of Relativity's films have each generated more than $100 million in worldwide box-office receipts.
Relativity also owns and operates Rogue Pictures, a company that specializes in films targeted to the 13-25 year old audience, and RogueLife, Relativity's digital studio which is developing original content for the Web and creating sustainable online platforms and communities. RelativityREAL, Relativity's television arm, has 67 projects in production, including 17 original series that are currently airing or will air in the upcoming television season including Police Women for TLC, Coming Home for Lifetime and The Great Food Truck Race for Food Network. For additional information, please visitwww.relativitymedia.com.