84th Academy Awards® Trailer Launches January 6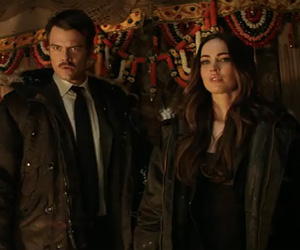 Beverly Hills, CA – The Academy of Motion Picture Arts and Sciences has produced its trailer for the 84th Academy Awards in conjunction with Funny Or Die. The trailer features host Billy Crystal and celebrity cameo appearances by Robin Williams, Josh Duhamel, Megan Fox, William Fichtner and Vinnie Jones.
"We wanted to try something a little bit different this year instead of a traditional, clip-based piece," said Academy Chief Marketing Officer Christina Kounelias. "The trailer has a fun twist that conveys how excited everyone is to have Billy back."
Crystal has one of the most distinguished track records of any host in Oscar® history. His upcoming appearance will mark his ninth turn hosting the Academy Awards. The enthusiastic response to the announcement of his return was the inspiration for the trailer.
"Our team had a great time working with the Academy and joining forces with Billy again," said Mike Farah, Funny Or Die's president of production. "We think the trailer really speaks to the excitement around this year's Oscars®, and Funny Or Die was honored to be a part of it."
The trailer will have a one-month run in more than 2,000 theaters beginning January 6 and can be viewed online at Oscars.org/trailer.
Academy Awards for outstanding film achievements of 2011 will be presented on Sunday, February 26, at the Kodak Theatre at Hollywood & Highland Center®, and televised live by the ABC Television Network. The Oscar presentation also will be televised live in more than 225 countries worldwide.
ABOUT FUNNY OR DIE
Funny Or Die launched in April 2007 and has quickly become the top destination for comedy on the web. At the 2011 Webby Awards Funny Or Die won nine awards, including Best Humor Site.  The site has over 12 million unique users per month, over 60 million video views per month, and has grown into a vertically integrated 21st century digital studio that produces high quality content over numerous platforms, operating a social media and marketing division with over 2.5 million Twitter followers, approximately 3.4 million Facebook fans, and devoted followers on numerous social networking and sharing sites.   Funny Or Die has become the "place to be seen" for comedic celebrities, and the obvious destination for a daily comedy fix. Funny Or Die's founders are Gary Sanchez Productions (Will Ferrell, Adam McKay and Chris Henchy), Sequoia and CAA. Judd Apatow is also a principal partner in Funny Or Die.
ABOUT THE ACADEMY
The Academy of Motion Picture Arts and Sciences is the world's preeminent movie-related organization, with a membership of more than 6,000 of the most accomplished men and women working in cinema. In addition to the annual Academy Awards – in which the members vote to select the nominees and winners – the Academy presents a diverse year-round slate of public programs, exhibitions and events; provides financial support to a wide range of other movie-related organizations and endeavors; acts as a neutral advocate in the advancement of motion picture technology; and, through its Margaret Herrick Library and Academy Film Archive, collects, preserves, restores and provides access to movies and items related to their history. Through these and other activities the Academy serves students, historians, the entertainment industry and people everywhere who love movies.
FOLLOW THE ACADEMY
www.oscars.org
www.facebook.com/TheAcademy
www.youtube.com/Oscars
www.twitter.com/TheAcademy