'Killer Elite' Now Out on Blu-ray/DVD! Enter to win a FREE copy!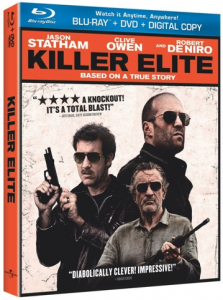 Based on a true story, Killer Elite races across the globe from Australia to Paris, London and the Middle East in the action-packed account of an ex-special ops agent (Jason Statham) who is lured out of retirement to rescue his mentor (Robert De Niro). To make the rescue, he must complete a near-impossible mission of killing three tough-as-nails assassins with a cunning leader (Clive Owen).
Cast: Jason Statham, Clive Owen, Robert De Niro, Yvonne Strahovski, Dominic Purcell, Adewale Akinnuoye-Agbaje
Director: Gary McKendry
Enter for a chance to win a FREE copy of the Killer Elite! In order to enter the contest, become a fan of ReviewSTL on Facebook. Then click the "share" button under the post, and tell everyone why you want to own the movie! NO PURCHASE NECESSARY. PLEASE REMEMBER TO READ THE RULES!
Good luck! And don't forget to pick up your copy of the Killer Elite on Blu-Ray and DVD Today!