Tobey Maguire Playing Bobby Fischer?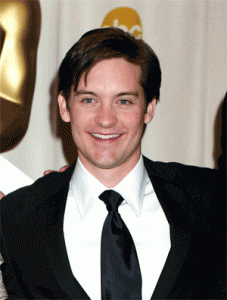 Maguire might have just lost a franchise character in Spider-man, but it looks like he might be playing famous chess icon, Bobby Fischer,  in the film Pawn Sacrifice.
Pawn Sacrifice follows Bobby Fischer who has to face the Russian chess champion, Boris Spassky,  in 1972, in a game filled with Cold War overtones. Basically think Rocky IV just slightly geekier (only slightly).  The film is being written by Steven Knight, who is also working on Matt Damon's recently announced Robert F. Kennedy biopic, has apparently had the script written for Pawn Sacrifice for some time.
No doubt the film will focus more on the earlier days of Fisher before he became a recluse, and started making lots of anti-Semetic remarks, and focus more on the match. It should be a standard sports fare drama, only with less intense action. I doubt anyone wants to see a slow motion chess game.
Maguire can now concentrate on the roles ahead of him, and take what he wishes now that he is no longer contractually obligated to a huge franchise like the Spider-man series. It makes me curious to see what type of roles he will choose.