Seth Green is Engaged To Clare Grant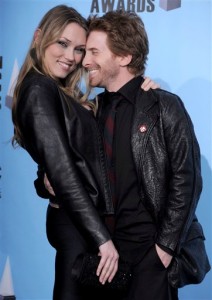 Robot Chicken creator and Family Guy star Seth Green apparently got engaged to his girlfriend, Clare Grant, over New Years, and the two have plans to wed in May.
"Yeah, we did it!" Green told reporters.
Clare Grant is a model-actress who has worked on a handful of independent and studio features including Walk the Line and Black Snake Moan. She also done voices on Green's Cartoon Network series Robot Chicken. Grant also produced a Star Wars short film titled Saber which she starred in. The film won Audience Award and Best Action at the 2009 Star Wars Fan Film Awards. (Now I can see why he proposed!)
The bride to be is apparently working with designer Tarina Taratino on her bridal plans.
Good for Seth Green! It's always good to see a fellow geek nab a beautiful girl.