Tickets for TWILIGHT: NEW MOON Are On Sale Now! Enter to win FREE tickets to the midnight show!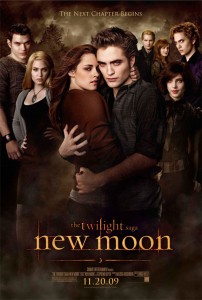 TWILIGHT: NEW MOON will be in theaters November 20, 2009. But tickets are going to sell fast, so make sure that you purchase your tickets early! If you haven't been to the Great Escape Theater in Gravois Bluffs, you need to experience the comfort and convenience that this incredible theater has to offer!
—
ReviewSTL is giving away 4 FREE tickets to the midnight showing of TWILIGHT: NEW MOON! To enter, leave a comment below with your favorite character from the TWILIGHT saga and why they are your favorite (Please no spoilers for those who have not read the books yet). Winners will be notified via e-mail. NO PURCHASE NECESSARY.
Good Luck! And don't forget… purchase your tickets early for TWILIGHT: NEW MOON.
Synopsis:
Bella Swan has always been a little bit different, never caring about fitting in with the trendy girls at her Phoenix high school. When her mother re-marries and sends Bella to live with her father in the rainy little town of Forks, Washington, she doesn't expect much of anything to change. Then she meets the mysterious and dazzlingly beautiful Edward Cullen, a boy unlike any she's ever met. Edward is a vampire, but he doesn't have fangs and his family is unique in that they choose not to drink human blood. Intelligent and witty, Edward sees straight into Bella's soul. Soon, they are swept up in a passionate, thrilling and unorthodox romance. To Edward, Bella is what he has waited 90 years for — a soul mate. But the closer they get, the more Edward must struggle to resist the primal pull of her scent, which could send him into an uncontrollable frenzy. But what will Edward & Bella do when a clan of new vampires — James, Laurent and Victoria — come to town and threaten to disrupt their way of life?
Watch the TWILIGHT: NEW MOON HD Trailer: