Thursday TV Lineup includes Charlie's Angels, Grey's Anatomy, Community, and Big Bang Theory (Fall 2011)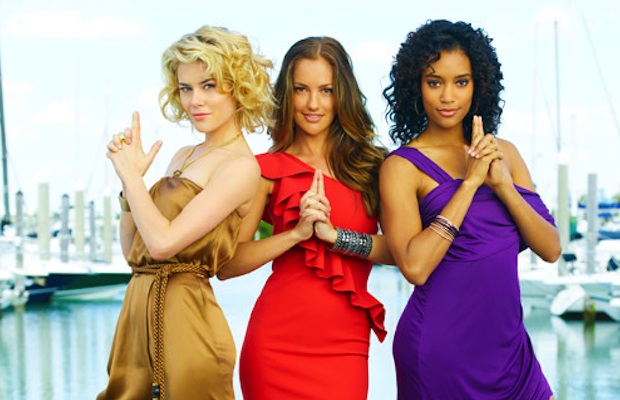 Thursday's are gearing up to be one of the most watched nights on television.
Here's the complete list of Thursday Network Television Shows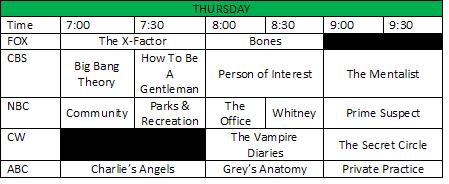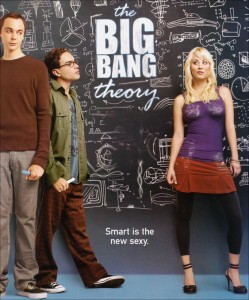 Thursday September 15th brings the first batch of new shows with The Vampire Diaries and The Secret Circle both premiering on the CW. The following week (the 22nd) is the bigger of the two weeks with CBS and NBC both premiering all of their Thursday shows (Correction: How To Be A Gentleman doesn't premiere till the 29th), ABC will also premiere Charlie's Angels and Grey's Anatomy and hold Private Practice till the 29th. Don't expect to see Bones until November 3rd because of Emily Deschanel being out because of a pregnancy.
For me Thursday is going to be my favorite night of the week because I am a Sitcom kind of guy and my three favorites (Big Bang, Community, and Parks and Rec) are all on this night (would have been four if CBS hadn't moved Rules to Saturday Nights). Other than that The Office is looking like it is going to have another great season (minus Michael Scott) and both How To Be A Gentleman and Whitney look to be promising when it comes to Sitcoms.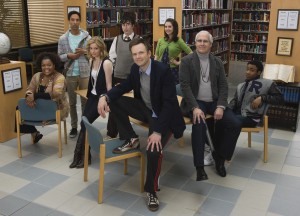 For Drama's: We all know what The Mentalist, Grey's Anatomy, Private Practice, and Bones all bring to the table but how will the critically acclaimed Person of Interest do in its first season on CBS. Also how will the much anticipated Charlie's Angels remake do when it hits ABC on the 22nd? I'm on the bubble about NBC's Prime Suspects, which is a remake of a British series of the same name. I won't even get started on the mythological night that the CW will be giving us with Vampires and Witches running the show over there.
Here's a complete look at the new shows
Show: Whitney
Network: NBC
Type: Sitcom
Who's in it: Whitney Cummings, Chris D'Elia, Jane Kaczmarek
Synopsis: Whitney follows the titular character, an opinionated woman and her very-supportive live-in boyfriend. Even though the two have decided that they will not commit to marriage, she does question how committed they are in their 5-year relationship and tries to go as far to prove a point.
Network: CBS
Type: Sitcom
Who's in it: David Hornsby, Kevin Dillon, Dave Foley
Synopsis: The series chronicles the friendship between an uptight columnist (Hornsby) and his more freewheeling trainer (Kevin Dillon).
Show: Charlie's Angels
Network: ABC
Type: Drama
Who's in it: Minka Kelly, Annie Ilonzeh, Rachael Taylor, Roman Rodriguez
Synopsis: Everyone deserves a second chance–even a thief, a street racer and a cop who got in a little too deep. After all, the three women who solve cases for their elusive boss, Charlie Townsend, are no saints. They are angels… Charlie's Angels.
Show: Person of Interest
Network: CBS
Type: Drama
Who's in it: Jim Caviezel, Michael Emerson
Synopsis: Mr. Finch (Emerson), a mysterious billionaire, has developed a computer program that predicts the identity of people connected to violent crimes that will take place in the future. Unable to stop the crimes on his own, Finch hires John Reese (Caviezel), a former CIA agent who is presumed dead, to help stop the crimes from taking place.
Show: Prime Suspect
Network: NBC
Type: Drama
Who's in it: Maria Bello, Aidan Quinn
Synopsis: Prime Suspect is an American police procedural television drama series
Show: The Secret Circle
Network: CW
Type: Drama
Who's in it: Britt Robertson, Thomas Dekker, Gale Harold
Synopsis: Set in the fictional town of Chance Harbor, Washington, the series will follow a California teenager who learns that she comes from a family of witches. Cassie, the main character, lost her mother in what she believes is an accident, leaving her an orphan. She quickly finds friends at her new school and finds out the secret of her family's history and the history of all the town's witches. But then she finds an old paper book which has another secret in it, her mother's death might not have been an accident.
Here are my personal predictions (First three to be cancelled, Top Three, and Top New)
First to be cancelled
#1 Whitney– Although promising I don't think that viewers are going to respond to this show all that well…especially when its up against Grey's Anatomy, Bones, and Person of Interest
#2 Prime Suspect- I really don't know how well it is going to do up against The Mentalist and plus I don't know how its going to adapt to American Television.
#3 How To Be A Gentleman- I'm very skeptical about the concept for this show so I'm going to say it will be third to go, possibly to make way for Rules of Engagement's return to Thursday Nights.
(Note: I would have put The Secret Circle on this list as well but the CW is good about giving shows a full season before canning them and right about then is when it will be cancelled, but I could be wrong)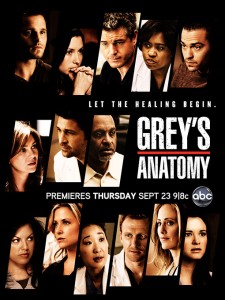 Top 3
#1 Grey's Anatomy– It's the final season and it has always gotten good ratings.
#2 The Mentalist- It's one of CBS's most watched shows and I don't see that changing this season
#3 Person of Interest- It looks really good and its on CBS so that leads to instant ratings.
My Best New Show will inevitably be CBS's Person of Interest
You can expect this and much more when the Fall 2011-12 Season kicks off its Thursday line-up on September 15th. Make sure you also come back here for My Take on the New Thursday Shows (Person of Interest, How To Be A Gentleman, Whitney, and The Secret Circle), along with Big Bang Theory, Community, and Parks and Recreation being a part of the weekly Sitcom Wrap but for now let me know what shows you are looking most forward to on Thursday Night.