Wednesday TV Lineup includes The X-Factor, Modern Family, Survivor, and Revenge (Fall 2011)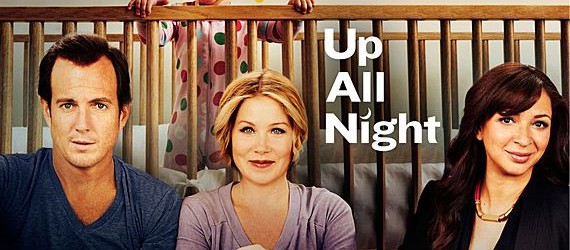 Wednesday September 14th brings quite a few of the Fall Premieres while you can expect to see the rest in the weeks following that.
Here's the complete look at the Wednesday Fall 2011-12 T.V. Schedule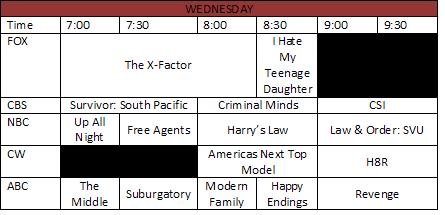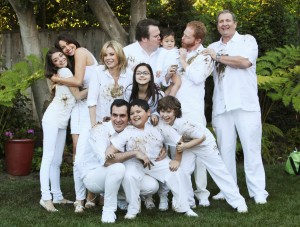 On the 14th you can expect to see a lot of the new shows hitting this fall like: CW's H8R and Americas Next Top Model, NBC's Free Agents and Up All Night, and the CBS staple Survivor: South Pacific. The next week (the 21st) is when you can expect the majority of the returning shows like: ABC Comedy's The Middle and Modern Family (both with one hour premieres) and new Drama Revenge, CBS's Criminal Minds and CSI, NBC's Harry's Law and Law and Order: SVU,  and the much anticipated FOX reality show The X-Factor. You can expect to see Happy Endings and Suburgatory the following week (the 28th) and if you were dying to see I Hate My Teenage Daughter then you have until Thanksgiving Eve (11/23) to wait on the FOX Sitcom.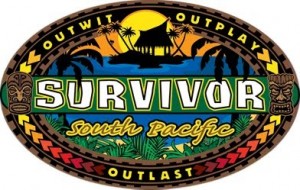 Wednesday should be very interesting this Fall with The X-Factor finally coming to America. I am curious to see if it will get the following that it is expected to and how will the show compare to the rating that American Idol gets on a weekly basis? I am also curious to see if Survivor: South Pacific will match up to the season that they gave us in the Spring (Ozzie and Coach are returning so it will be entertaining at least). I also want to see how well ABC newcomer Revenge will do up against CBS and NBC staples CSI and Law and Order: SVU….will it even make it through one season?
Here's a more in depth look at the new shows
Show: H8R
Network: CW
Type: Reality
Who's in it: Variety of Celebrities
Synopsis: H8R will feature celebrities who are ready to confront their biggest haters (mostly friends, family members or their fans who have a negative view of their career or lifestyle) and try to convince them that their animosity is misdirected, and hopefully win them over
Show: Up All Night
Network: NBC
Type: Sitcom
Who's in it: Will Arnet, Christina Applegate, Maya Rudolph, Nick Cannon
Synopsis: Up All Night centers around a couple who struggle to balance their home lives (especially with their newborn child, Amy) and their work lives.
Show: Free Agents
Network: NBC
Type: Sitcom
Who's in it: Hank Azaria, Kathryn Hahn
Synopsis: Free Agents follows the lives of two public relations executives, a recently divorced guy and a woman trying to move on after the death of her fiancee, who discover that they seem to have an attraction for each other, even after having slept together during a drunk-filled one night stand, while at the same time trying to stay professional at work, where their friends will do anything to get them to re-enter the dating scene
Network: ABC
Type: Drama
Who's in it: Emily Van Camp, Madeleine Stowe
Synopsis: A mysterious woman, Emily Thorne (Emily Van Camp), arrives in the Hamptons seeking revenge on the people who destroyed her family.
Show: Suburgatory
Network: ABC
Type: Sitcom
Who's in it: Jeremy Sisto, Jane Levy
Synopsis: Suburgatory follows a divorced father who decides to get away from New York City to the suburbs so he can give his 16-year-old daughter a better life. However, the move to 'burbs has the daughter wondering if they just entered the world of The Stepford Wives after they see how 'perfect' their new locale is, right down to the neighbors who welcome them into the cul-de-sac
Show: The X-Factor
Network: FOX
Type: Reality
Who's in it: Simon Cowell, Paula Abdul, Nicole Scherzinger, L.A. Reid
Synopsis: The X-Factor is a singing competition (similar to American Idol) but it does differ in that there is no age limit and the judges serve more as mentors than judges.
Show: I Hate My Teenage Daughter
Network: FOX
Type: Sitcom
Who's in it: Jaime Pressly, Kristi Lauren, Katie Finneran, Aisha Dee
Synopsis: I Hate My Teenage Daughter will follow two mothers who fear their daughters are turning into the kind of girls who tormented them in high school. The fears would come quickly when Annie Watson (Pressly), who grew up in a ultra-strict conservative family, begins to notice that she has allowed her daughter Sophie (Lauren) to do what she wants to do, which she takes advantage of by embarrassing and mocking her mother, while best friend Nikki Miller (Finneran), who grew up unpopular and overweight and has reinvented herself as a Southern Belle, begins to notice how manipulative her daughter Mackenzie (Dee) has become.
Here are my predictions for Wednesday nights (First three gone, Top three, and Top New Show)
First to go
#1 Up All Night- You would think putting comedy gold in Christina Applegate and Will Arnet would lead to good ratings but if you look at the past they both haven't had a successful show in who knows how long…I'll give it to them that this will probably be a hilarious show but will the public respond to it?
#2 Suburgatory- I just think the plot doesn't sound all that appealing and I think viewers will agree.
#3 Free Agents- Again the plot just doesn't sound all that great and I think that will kill it.
I also think that I Hate My Teenage Daughter will not last long at all as well but it doesn't premiere till Thanksgiving Eve and I think the before mentioned shows will be long gone by then.
Top Shows
#1 CSI- It always does great in ratings and I don't think that will change this year
#2 The X-Factor- Based solely off of the hype and I think the show will live up to expectations
#3 Survivor: South Pacific- You don't make it twenty plus seasons without some kind of following
With no surprise The X-Factor will be the Best New Show
You can expect this and much more when the Fall 2011-12 Season kicks off its Wednesday line-up on September 14th. Make sure you also come back here for My Take on the New Wednesday Shows (Free Agents, Up All Night, Revenge, and Suburgatory), along with Survivor: South Pacific and Modern Family, Happy Endings, and The Middle will be featured in the weekly Sitcom Wrap but for now let me know what shows you are looking most forward to on Wednesday Night.