Throwback Thursday Volume 2 – Bel Biv Devoe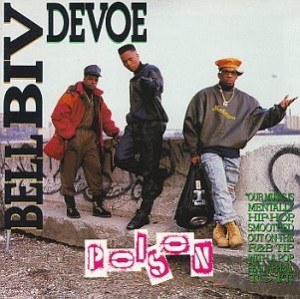 I checked what was next on the list of number one albums only to find out it was a greatest hits album.  While greatest hits albums are nice to have, I feel that they should be exempt from lists because I see them as a cheat.  What I mean is the band/artist just took their old music and rearranged it, something I could do by myself, at home and resold it to me for 20 bucks.  Screw that.  So this week I'm reviewing an album you suggested.  Way back from 1990, its "Poison," by Bel Biv Devoe.
Bel Biv Devoe is an offshoot of the group New Edition that consists of Ricky Bell, Michael Bivins, and Ronnie Devoe.  Their debut album, "Poison," was released in the spring of 1990.  "Poison," the first single off of the album, is an immediately gratifying groove and it is by far the best song on the album.  There is also "B.B.D (I thought it was me?)," about a cocky stud who thinks the key to his lover's devotion is in his kiss, only to learn "she's like that with all the guys." Put together by Shocklee with brother Keith, Eric "Vietnam" Sadler and co-writer Roney Hooks, the album has a plot twist, it makes B.B.D the butt of their own sexist joke.  This allows for the record to have it three ways: The boys strut their  love-bragging songs, undercut the brag with hilarious style and reveal as much genuine camaraderie as you've heard on a record since the background vocals on Exile on Main Street. "Let Me Know Something?!" follows with a perverse, funky groove, and then comes "Do Me!"  The album is a good solid effort throughout definitely broke this band away from its predecessor, New Edition.  If you don't own it, I suggest downloading this 20 year old record, after all you made it popular…back in 1990.