Thomas Lennon headlining a show on NBC
This can only be a good thing for NBC. First of all, Thomas Lennon is one of the funniest people on TV. If you don't immediately know who he is, he was Lt. Dangle on Reno 911. NBC is a fast sinking ship, and something like this can only be as good as a lifeboat for them. It is amazing that for the longest time they were the network that ruled TV, but they can't get a hit show to save their life.
From THR.com:
---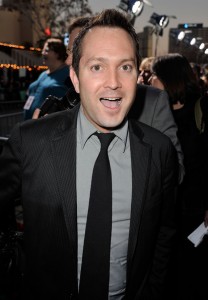 Two months after he broke the news of his Comedy Central show "Reno 911!" coming to an end, series star/co-creator Thomas Lennon is headlining a new comedy project at NBC.
The broadcast network has handed a pilot commitment with penalty to the multicamera comedy he will write with Robert Ben Garant, his "Reno" co-creator/co-star and frequent collaborator.
The two also will executive produce the project, whose premise is being kept under wraps, with Peter Principato and Paul Young. Lennon will star; Garant will play a supporting role.
Additionally, NBC and sibling Universal Media Studios, which is producing the Lennon/Garant project, has inked a talent holding deal with Lennon that includes his show with Garant.
NBC and UMS moved quickly to lock in Lennon and Garant following "Reno's" August cancellation after a six-season run.
"Our entire team has long been fans of the work Lennon and Garant have done on 'Reno 911!' as well as their comedy films," NBC president of primetime entertainment Angela Bromstad said, noting that network brass will look for the duo "to come up with a comedy hit."
Lennon and Garant, co-founders of New York-based sketch comedy troupe the State, have written such features as the two "Night at the Museum" films, "Reno 911!: Miami," "Balls of Fury" and "The Pacifier."
The pair, who recently signed a writing deal with Spyglass Entertainment, have several film projects in the pipeline: "How to Survive a Robot Uprising" at Paramount, "The Secret Life of Walter Mitty" and "The Devil You Know" at Fox and "The Incredible Shrinking Man" for Universal and Imagine.
In front of the camera, Lennon recently appeared in "I Love You, Man" and "17 Again."
Lennon and Garant are repped by CAA, Principato-Young and attorney Karl Austen.
---
I'm thinking that NBC is going to need more than this to make a hit comedy though. As funny as Lennon and team are, they have a small built in audience, but are they mainstream enough to bring in a large audience week to week? I guess time will tell. In the meantime bring back Chuck as quick as possible.