Chris Pine is Jack Ryan?
Suddenly, Chris Pine is every where. Yesterday, I reported that Chris Pine was in negotiations to work with Disturbia director D.J. Caruso. Well, apparently he is keeping his options open. He may be up for the famous role of Jack Ryan. Both productions are through Paramount, so who knows if this is a package deal or what.  Chris Pine has some big shoes to fill. Harrison Ford, Alec Baldwin, and Ben Affleck have all previously played the character made famous by Tom Clancy.
From THR.com:
---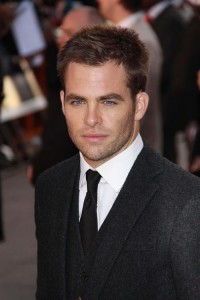 Chris Pine is in negotiations to portray Jack Ryan in Paramount's untitled Jack Ryan feature project.
The intelligence analyst created by novelist Tom Clancy has not appeared onscreen since 2002's "The Sum of All Fears," where he was portrayed by Ben Affleck. Alec Baldwin originated the character on the big screen with 1990's "Hunt for Red October," though it was Harrison Ford who took on the role in the two sequels.
Mace Neufeld and Lorenzo di Bonaventura are producing the latest Ryan project for Paramount, which has a script by Hossein Amini. The project is still out to directors.
Plot details are harder to get than keys to Langley, though it is understood to feature Ryan's adventures at an earlier point in his career.
Paramount is clearly and presently very keen on Pine, who starred as Captain Kirk in the studio's rebooted "Star Trek." Pine is also in negotiations to star in Paramount's "The Art of Making Money," the true story of a master counterfeiter that D. J. Caruso is in talks to direct.
Pine is repped by SDB Partners and John Carrabino Management.
---
It sounds like this would be very similar to Star Trek, in the fact that it follows our hero before he became the hero we know and love. I think Pine has good potential, but he can't keep doing characters already made famous by someone else. It may work for a bit, but the character is going to overshadow himself. Although money talks.