Gilmore Girls' Amy Sherman-Palladino in new HBO Project
I was never an avid watcher of the Gilmore Girls, but what I did see was entertaining. The quick bantering between characters seemed to me almost Whedon-esque at times.  Which makes sense because Sherman-Palladino and Whedon worked on the popular sitcom Rosanne as staff writers at one point in their careers. I can't really dislike anything with the extremely cute Alexis Bledel in it either. I think I'm liking the idea of her doing a HBO show much more than the Ellen Page HBO show we talked about last week. Sherman-Palladino has a much longer career, and knows how to run a successful show. I'm really intrigued about where she goes with it. Will it be as wholesome as the Gilmore Girls was or will she use her digs for a chance to go a little darker?
From THR.com:
---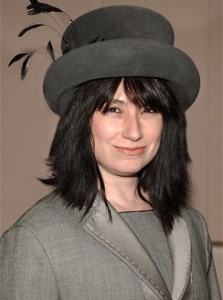 "Gilmore Girls" creator-executive producer Amy Sherman-Palladino will be tackling more mother-daughter relationships in a project for HBO.
Sherman-Palladino will write and executive produce the untitled drama, which chronicles the complicated relationship between three adult sisters, all writers sharing the same upper east side apartment building, and their mother, a domineering literary lioness who reserves most of her affections for their ne'er-do-well brother.
"It's a story of love, hate, family — and finding the perfect opening line," Sherman-Palladino said.
The project marks Sherman-Palladino's first foray into cable.
After a string of gigs on broadcast sitcoms, including "Roseanne" and "Veronica's Closet," Sherman-Palladino rose to prominence with her quirky mother-daughter dramedy "Gilmore Girls," which aired on the WB and CW for seven seasons. Sherman-Palladino ran the show starring Lauren Graham and Alexis Bledel for the first six years before parting ways with producing studio Warner Bros. TV.
Sherman-Palladino, who most recently created and executive produced the short-lived Fox comedy series "The Return of Jezebel James," is repped by CAA.
---
Will Sherman-Palladino have better luck this time around? Or will Gilmore Girls go down as her one and only success?