This Weekend In Movie History – "Salt" vs "The Bourne Supremacy"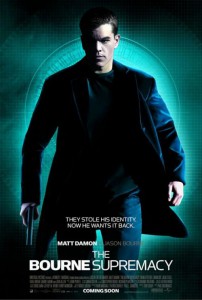 Let's wind the clock back to a simpler time when the economy was better, ticket prices were lower, and everyone got along….Okay, so we are just looking back to 2004. So really, not much was different.
But one thing may be the same. We may once again get a new release in the top spot. This time six years ago, "The Bourne Supremacy" opened to not only great reviews, but also great numbers making $52,521,865. It certainly did not have much competition, with the other big release that weekend being "Catwoman." The other films in the top five were "I, Robot," "Spider-Man 2," and "A Cinderella Story" (I personally saw four out of five of these films which I am embarrassed to say, because both "Catwoman" and "A Cinderella Story" are on the list. Thankfully, I did not see both).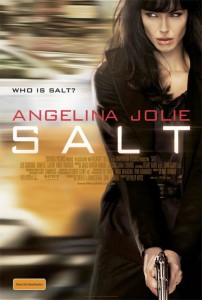 Salt will try to accomplish what The Bourne Supremacy did in becoming number one and producing a big revenue. Friday estimates show "Inception" and "Salt" making $13,230,000 and $12,700,00 respectively. Only time will tell if "Inception" will remain at the top, or if "Salt" will be the weekend's big winner.
What do you think? Will the buzz about Inception bring in a lot of new viewers? Will a lot of people pay to see "Inception" again, hoping for some clarity? Or will Angelina Jolie prove that she puts butts in the seats? Let us know what you think in the comments below.