Theatre Review: Rodgers and Hammerstein's Cinderella Brings "Impossible" Magic to The Muny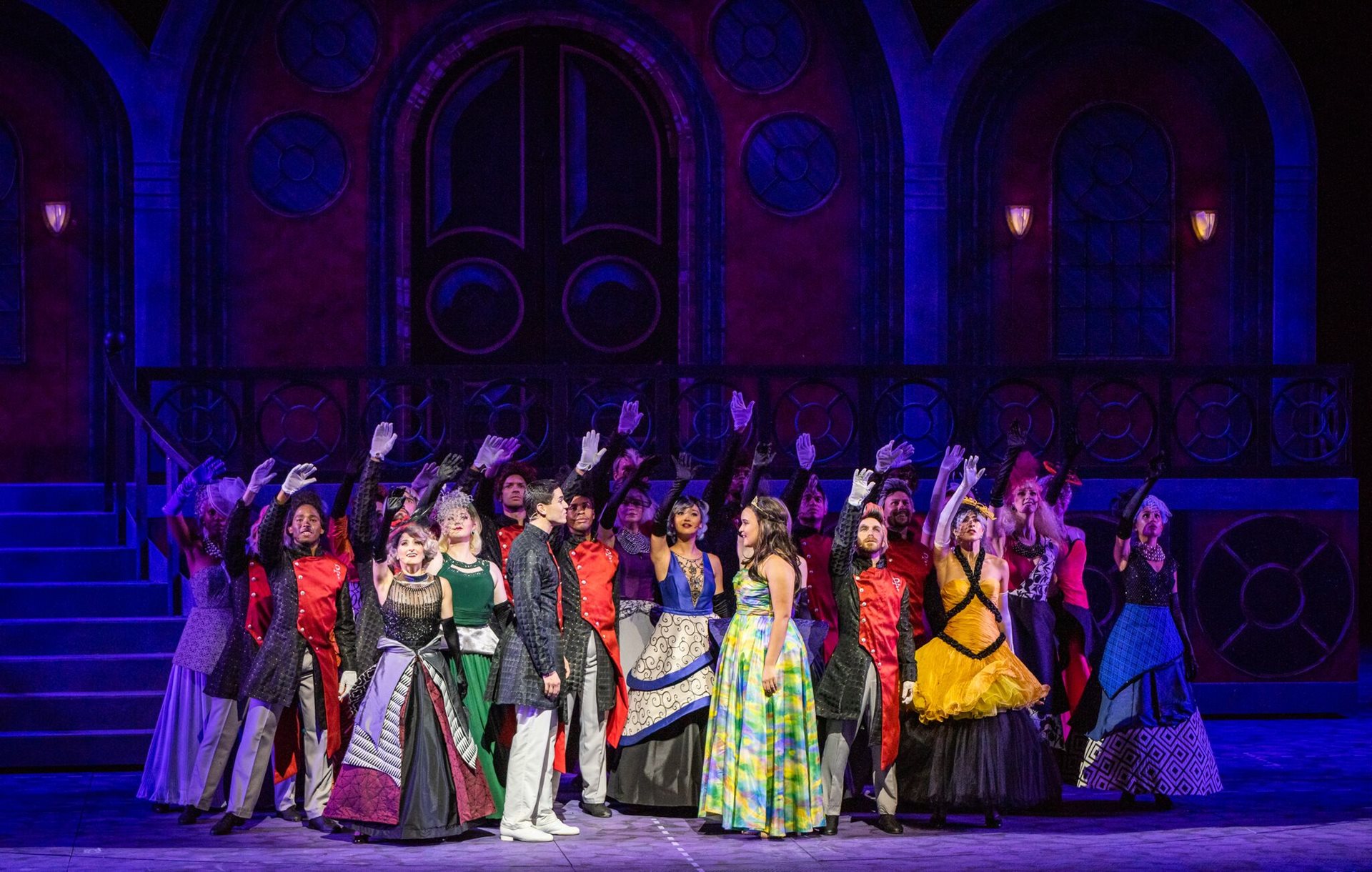 Cinderella was originally written by Rodgers and Hammerstein for television broadcast in 1957, but would go on to be performed in London, on Broadway, and all around the world to this day. And now The Muny is able to add their trademark magic to the classic fairytale.
Everyone knows the story, whether they've read it in a book or watched the classic Disney animated version from 1950 (or the live-action adaptation from 2015). Or maybe you remember watching Julie Andrews in the original broadcast, or perhaps Lesley Ann Warren in 1965. Younger audiences will recall seeing Brandy in 1997 version, with Whitney Houston as her fairy godmother. In any case, the fairy tale is a classic which we all know in some form. The Muny's version is a take on the Broadway production from 2013.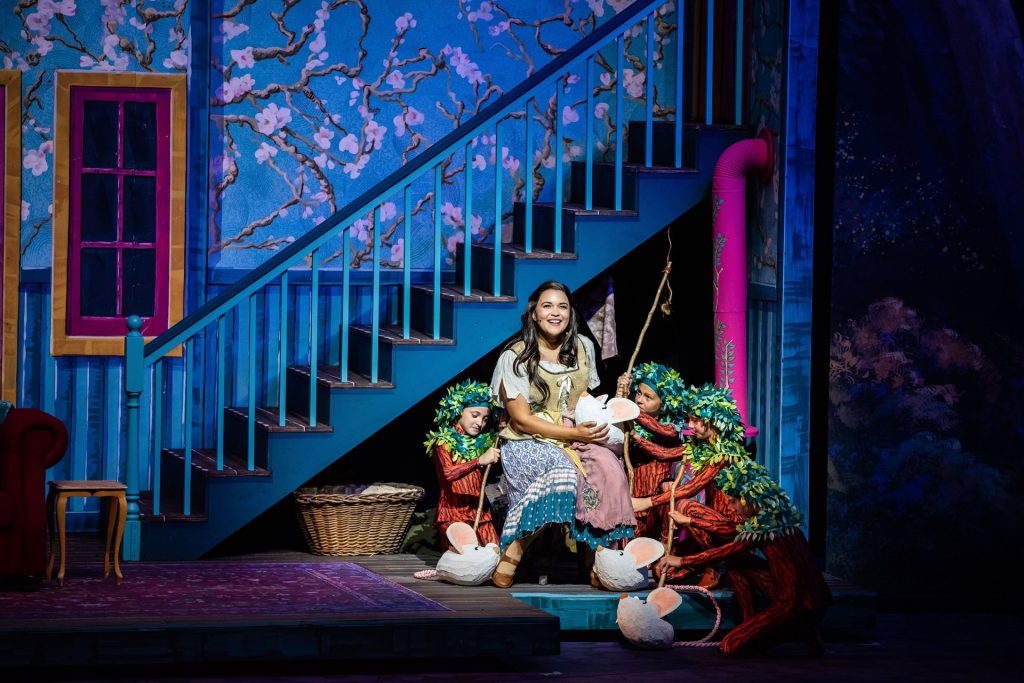 Mikaela Bennett is charming as Ella, with an angelic voice to match the kindness of the beloved character. She meets Prince Topher (Jason Gotay) who is parched after slaying countless giants, dragons, and other beasts – and offers him a drink of water. He takes note of her kindness, offering her and "Crazy Marie" (Ashley Brown) money in return. Ella returns home to her deplorable stepmother (Alison Fraser) and two semi-terrible step-sisters in this version: Gabrielle (Stephanie Gibson) and Charlotte (Jen Cody). They find out "The Prince Is Giving a Ball" so everyone other than Ella prepares accordingly.
Luckily Marie was actually her fairy godmother in disguise and helps her do the "Impossible" – turning animals into coachmen and horses, a pumpkin into a carriage, and outfitting her with a beautiful dress and glass slippers. And you know the rest.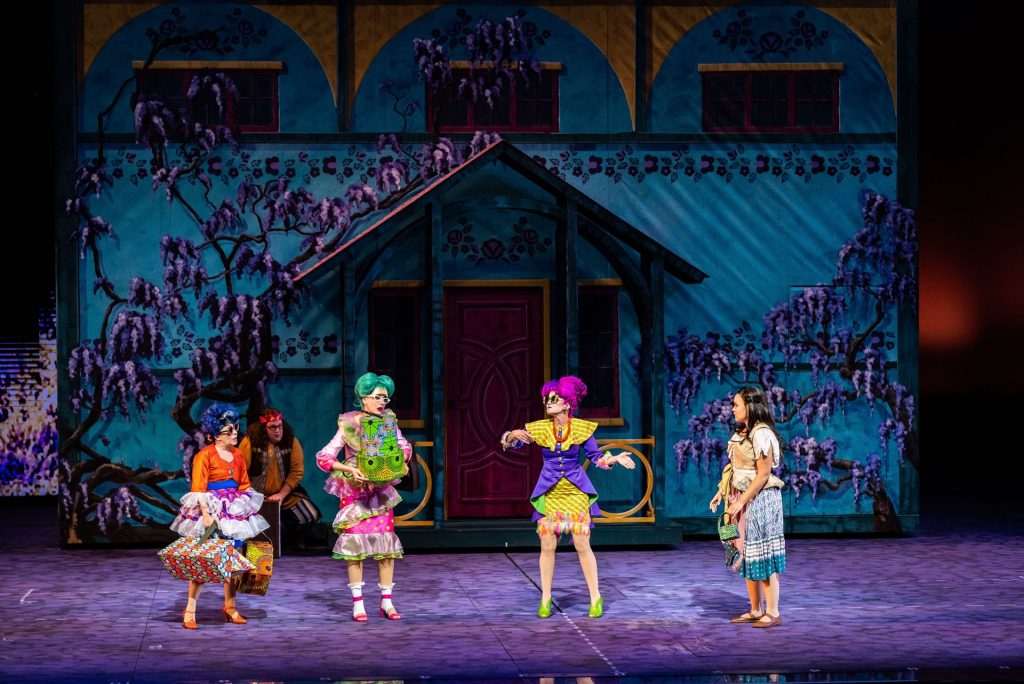 The sets designed by Paige Hathaway are gorgeous, complimented by the wonderful video design of Nathan W. Scheuer.  But what will have everyone talking about this production are the dazzling costumes designed by Robin L. McGee. The outfits are surprisingly modern, and not what you might expect from a traditional production of the classic musical. They seem to take more inspiration from the 1997 version (starring Brandy and Houston) than the Broadway show or any others. I found the designs to be extremely creative and honestly – refreshing. After all, the show has been around for over 62 years and there are only so many ways to present classic ballgowns and suits. The flashy dresses and bright colors are really fun and definitely had the audience talking.
Speaking of costumes, the adorable forest creatures were controlled by the Muny Kids and Teens who were dressed as trees. It was a delight watching the birds fly around the stage, and critters scurry about the forest – and eventually transforming through the fairy godmother's (and The Muny's) magic.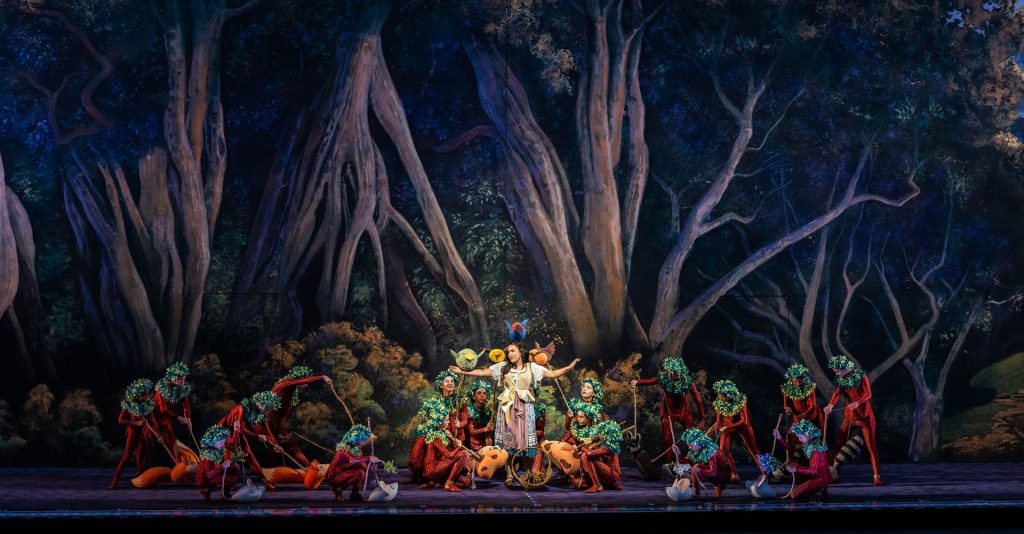 Both Bennett and Gotay are charismatic, with wonderful chemistry. Bennett is the real deal, always appearing sweet and kind as the lovable dreamer. Gotay is given quite a few comedic beats to work with and handles them well. Both are delightful.
Ashley Brown has the perfect voice for the fairy godmother – and so does Alison Fraser as Madame. The stepmother and both of her daughters are all hilarious. Jen Cody has a wonderful moment to shine during "Stepsister's Lament" (originally performed by both Gabrielle and Charlotte), and Gibson manages to make Gabrielle likable in this version – partially thanks to the newer subplot with activist Jean-Michel (Chad Burris). Their forbidden love story is quite enjoyable throughout the show.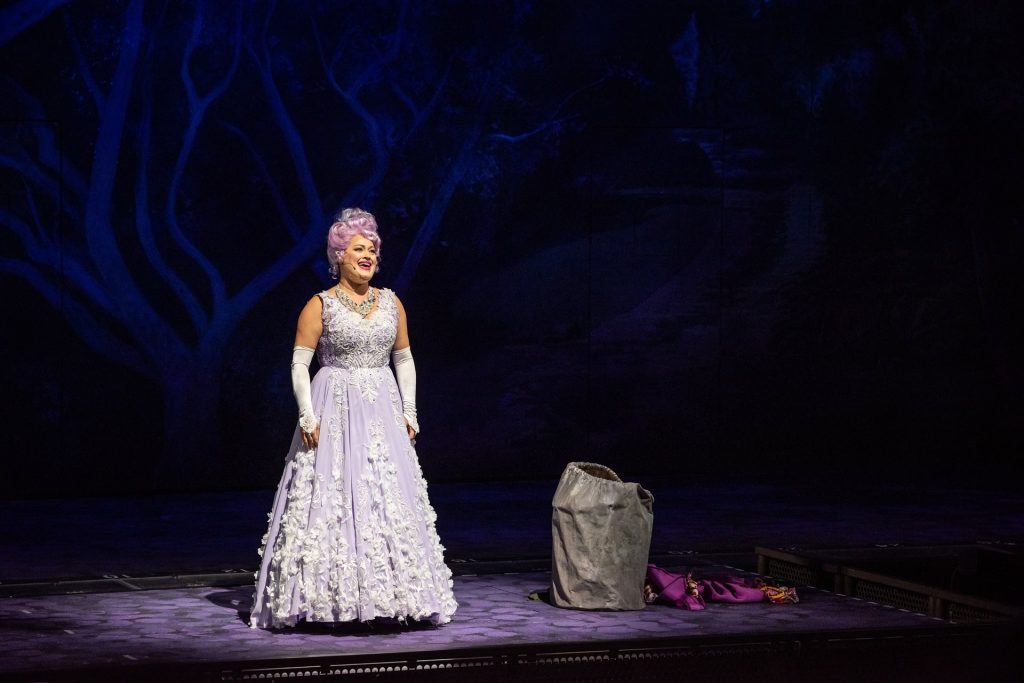 John Scherer is wickedly entertaining as the dastardly Lord Chancellor Sebastian, acting as Prince Topher's advisor. And Victor Ryan Robertson shows off his talents for memorization as Lord Pinkleton, who repeatedly sings the Prince's full name when announcing the ball.
The Muny delights once again with their fun and updated take on a classic fairytale that everyone knows and loves. For purists of the original show, be prepared for quite a few changes. But with an open mind, and a love for the story, there is a lot of magic to take in during these beautiful summer evenings.
Cinderella is now playing through July 16 at The Muny. Tickets are available via MetroTix. For more information, visit muny.org.