Concert Review: The Head and the Heart at Stifel Theatre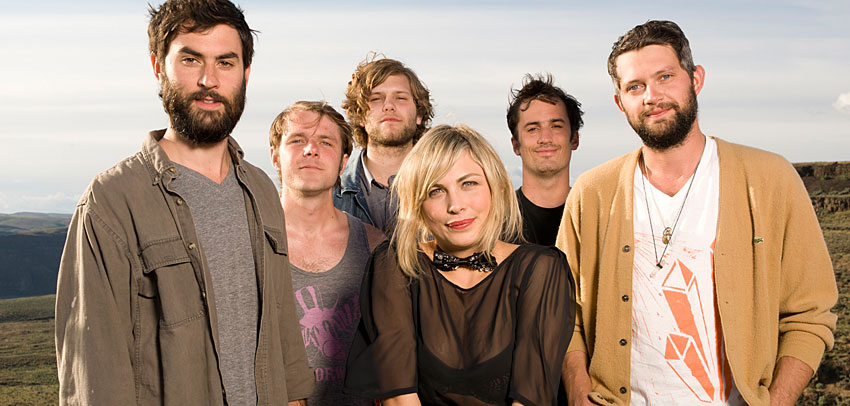 By Hannah Bodenhausen
The Head and the Heart made their return to St. Louis at Stifel Theater Sunday night on the second stop of their tour promoting their fourth album, Living Mirage. Their last appearance in town was last fall when, after the Loufest cancellation debacle, the group made up not being able to play their festival set with an intimate sold out show at Delmar Hall for the few lucky fans who could get tickets. Sunday's performance at Stifel finally gave many more the opportunity to see this feel good indie folk group live.
The show was opened by Twin Cities indie rock band Hippo Campus, who brought in a fair number of their own dedicated fans. Already fast rising stars in the indie scene, the group took a laid back and fun approach to their performance, grooving around the stage while they played some of their best-known songs. Their sound filled the theater the way any headlining act could, and by the end of their set much of the crowd was standing for their foot-stomping, middle-finger-raising, top-of-your-lungs-screaming jam, "Buttercup."
Before The Head and the Heart's set, the stage was transformed with minimalist wooden sculptures resembling sand dunes. As the house lights fell, the entire back of the stage was illuminated with tiny lights, giving the illusion of a quiet desert night. Appropriately then, the band opened with "Living Mirage," the title track from their newest release. While the entire group's entrance was met with roaring applause, it was vocalist and violinist Charity Rose Thielen who received the loudest cheers of the night anytime she had a solo, and rightfully so. Thielen possesses a vocal tone that is unlike any other and brings an extra level of emotion to any song she is prominently featured on.
The night consisted of about a half and half mixture of songs from the newest album, as well as crowd favorites such as "All We Ever Knew" and "Lost in My Mind." Standouts off Living Mirage included "People Need a Melody," "Honeybee," and "See You Through My Eyes." Lead vocalist Jonathan Russell kept the show lighthearted, sprinkling in an anecdote about the songwriting process or the trials of being the owner of a nice hat in between a few songs, as well as breaking down for a short lived, seemingly improvised cover of the Backstreet Boys "I Want It That Way."
Like all good folk music should, the whole set felt like an escape into nature and invoked a peaceful sense of nostalgia. While their stage design was minimal, their sound was layered and expansive, leaving the audience wondering where the time had gone when the band left before their encore. When they returned, they did so in pieces, first with Russell performing "Glory of Music" solo, then slowly adding in members for subsequent songs, and finally ending with one of their biggest hits "Rivers and Roads." Like on the recording, the track slowly crescendoed to its grand finale, although many audience members could not resist screaming along key lyrics early in the song. At the end of that last song, as the band left the stage, every member of the audience understood exactly what Russell meant when he sang earlier that "we are the power of music."