"The Tonight Show With Jay Leno" Returns – Here is the Guest List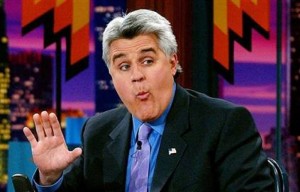 A lot of websites and blogs are firing up today talking about the guest list for the return of Jay Leno. Saying the first two weeks proves that he wasn't hurt by the debacle at all. It'd be naive to think that NBC wouldn't be able to book top guests for the return of a show that will probably get abnormally high ratings when it comes back.  What matters if Leno is able to keep the high caliber guest list up after the hoopla has died down. It is no secret that a handful of Hollywood stars don't wish to return to Leno's show after his handling of the Conan situation.
Needless to say, the first two nights are probably the strongest. After the first two days the schedule becomes hit or miss, but that is the way late night shows have always run. There just aren't enough A-list guests to keep it filled every night of the week.  So, let's take a look at the list.
Monday, March 1
Jamie Foxx, the Olympic skier Lindsey Vonn and a musical performance by Brad Paisley
Tuesday, March 2
Sarah Palin, the Olympic snowboarder Shaun White
Wednesday, March 3
"Jaywalk All-Stars" with the cast of "Jersey Shore," Chelsea Handler, speed skater Apolo Anton Ohno and a musical performance by Avril Lavigne
Story continues below
Thursday, March 4
Matthew McConaughey and Jason Reitman
Friday, March 5
Morgan Freeman and Meredith Vieira
Monday, March 8
Simon Cowell
Tuesday, March 9
Christoph Waltz, the animal expert Dave Salmoni and a musical performance by Joan Jett and the Blackhearts
Wednesday, March 10
Kristen Stewart and Guy Fieri
Thursday, March 11
Dana Carvey and Kim Kardashian, with a musical performance by Colbie Caillat

Friday, March 12
Dakota Fanning and Judd Apatow