Shane Black Directing "Doc Savage"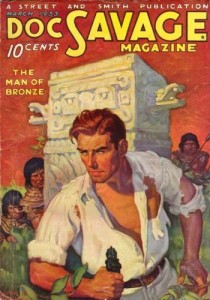 Shane Black has been around Hollywood for a while. Starting first with writing Lethal Weapon, Lethal Weapon sequels, The Last Boy Scout, and Monster Squad. In 2005 he proved his flair for directing as well as writing with Kiss Kiss Bang Bang starring Robert Downey Jr. Now he is tackling pulp comic Doc Savage.  Shane Black will be writing as well directing the feature about the "Man of Bronze".
"Doc Savage is an icon, a character with limitless possibilities," said Matt Tolmach, co-president of Columbia, "We have had a great experience working with Neal to bring another classic character of the era, the Green Hornet, to a new generation of fans, and we think he and Shane make the ideal team to bring Doc Savage back to the big screen."
To give you a little scope of Doc Savage here is his description in Wikipedia:
Doc Savage's real name was Clark Savage, Jr.. He was a physician, surgeon, scientist, adventurer, inventor, explorer, researcher, and, as revealed in The Polar Treasure, a musician. A team of scientists assembled by his father deliberately trained his mind and body to near-superhuman abilities almost from birth, giving him great strength and endurance, a photographic memory, a mastery of the martial arts, and vast knowledge of the sciences. Doc is also a master of disguise and an excellent imitator of voices. "He rights wrongs and punishes evildoers." Dent described the hero as a mix of Sherlock Holmes' deductive abilities, Tarzan's outstanding physical abilities, Craig Kennedy's scientific education, and Abraham Lincoln's goodness. Dent described Doc Savage as manifesting "Christliness."
Basically Doc Savage was a character who was similar to Batman wearing four utility belts.  Remember when you were a kid, and you would play war with your friends. Your friend would yell, "I shot you!", and you'd yell back something like, "Nope, I was wearing a vest that magically stops all bullets." Well, Doc Savage is the literary equivalent of that. Which means that he is bad ass.