Hilary Duff Recieves $1 Million Dollar Engagement Ring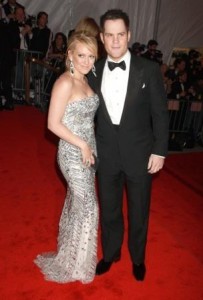 Hilary Duff's fiance Mike Comrie of the NHL's Edmonton Oilers reportedly bought Duff a $1 million dollar engagement ring.  Sources say that Comrie bought duff the princess cut sparkler in Las Vegas. The couple got engaged February 19, 2010 while vacationing in Hawaii.
Comrie has a history of buying expensive things for Duff. Early on in their relationship he bought her a Mercedes worth over $100,000.  The expenses are likely to keep adding up for the couple, who are shopping for their new home in Beverly Hills. The couple is looking at a $10 million dollar estate.
Comrie will have to settle for winning Duff over, because his Oilers aren't doing so hot right now. The Edmonton Oilers are currently sitting in last place in the NHL with a record of 19-36-6. I'm sure he can drown his sorrows in the huge piles of cash he has. Not only does he make good money playing hockey, he also the heir to a retail fortune.