Sarah Palin's Daughter, Bristol, Guest Starring on "Secret Life of the American Teenager"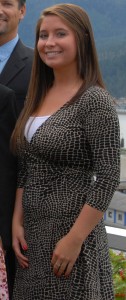 ABC Family's Secret Life of the American Teenager is receiving a very special guest in the form of Bristol Palin, daughter of former Governor of Alaska, Sarah Palin. Bristol will be playing herself in a show that concerns itself with teenage problems. like teen pregnancy.  Bristol was shoved to the forefront of the 2008 Presidential Race for a bit, when it was revealed she was pregnant. The announcement was one of the bigger moments the McCain campaign had to endure.
"I am thrilled to be on this show and to be a part of a program that educates teens and young adults about the consequences of teen pregnancy," Palin said in a statement.
Bristol Palin will be heading to LA later this year to shoot her scenes. She'll be playing herself, and will be working at a music program for fellow teenage mothers. Not too far of a stretch for the eldest Palin child.
Let's just hope she does better on TV appearances than her mother.