"The Sorcerer's Apprentice" International Trailer Starring Nicolas Cage and Jay Baruchel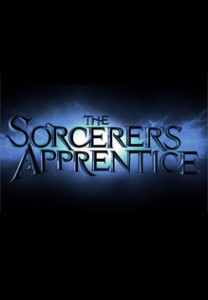 My first thought upon seeing this trailer is how anyone let Nicolas Cage wear such an awful wig. Does anyone really believe that is his hair? My second thought was that it actually looks pretty fun.  I don't think it will be a cinematic masterpiece, but it should at least be entertaining. I still maintain that this is the breakout year for it's star, Jay Baruchel. This actually looks to be his best shot, as both She's Out of My League and How to Train Your Dragon both debuted to decent (and in Dragon's case great) reviews, but ended up under performing at the box office.  Jon Turteltaub is no David Fincher, but he knows how to make crowd pleasers. They may not be critical darlings, but they usually tend to do alright at the box office.
Synopsis:
Balthazar Blake is a master sorcerer in modern-day Manhattan trying to defend the city from his arch-nemesis, Maxim Horvath. Balthazar can't do it alone, so he recruits Dave Stutler, a seemingly average guy who demonstrates hidden potential, as his reluctant protege. The sorcerer gives his unwilling accomplice a crash course in the art and science of magic, and together, these unlikely partners work to stop the forces of darkness. It'll take all the courage Dave can muster to survive his training, save the city and get the girl as he becomes The Sorceror's Apprentice.
Director: Jon Turteltaub
Cast: Nicolas Cage, Jay Baruchel, Alfred Molina, Monica Bellucci,
Release Date: July 16, 2010