"The Social Network" Available in January, DVD Specs Listed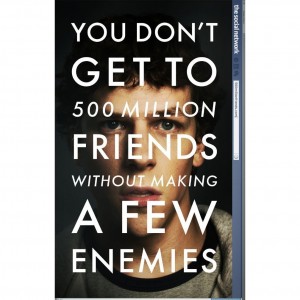 The Social Network has been one of the most talked about films all year.  Now, award season has begun and the film is receiving accolade after accolade.  Add to that Mark Zuckerberg being announced as Time's "Person of the Year" and you have a movie that some could argue as the event of the year.  I mean, do you really think Zuckerberg would have received such an honor without the movie receiving so much attention?
Audiences will not have to wait much longer to bring the movie home.  The DVD / Blu-Ray is set for release on January 11, 2011.  This is two weeks before the Oscar nominations are announced.  As if the film needed anymore buzz to win the big award.
So what can you expect to see besides the film: Both the DVD and Blu-Ray will contain two audio commentaries, one from director David Fincher and the other with screenwriter Aaron Sorkin.  The Blu-Ray will contain a second disc that includes "How Did They Ever Make a Movie of Facebook?" feature length documentary; Angus Wall, Kirk Baxter and Ren Klyce on Post; Trent Reznor, Atticus Ross and David Fincher on the Score; In the Hall of the Mountain King: Reznor's First Draft; Swarmatron; Jeff Cronenweth and David Fincher on the Visuals; and Ruby Skye VIP Room: Multi-Angle Scene Breakdown.
Pre-order "The Social Network" on Blu-ray | DVD now and save.
How does The Social Network stack up against your favorite films of the year?  Let us know in the comments below.