Sarah Jessica Parker, Halle Berry, Zac Efron Added to the "New Year's Eve" Party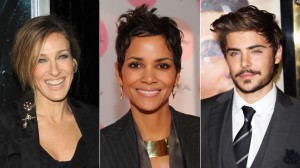 After the success(?) of Valentine's Day, director Garry Marshall decided he wants to take on another holiday.  This news has been known for awhile, but the man just keeps on adding more names to the growing cast list.  Sarah Jessica Parker, Halle Berry, and Zac Efron on being rumored to join the fun. 
No real plot details have been released as of yet, but you can expect the same storyline as Valentine's Day.  Several couples and individuals are seeking love and parties as their lives intertwine during the end of the year bash.  Sounds like a great time, right?  Unfortunately, I am sure that it will not compare to Love, Actually.
So who will these three actors be joining.  Let the laundry list begin: Jake, Gyllenhaal, Robert DeNiro, Lea Michele, Sofia Vergara, Ashton Kutcher, Jessica Biel, Taylor Swift, Abigail Breslin, Michelle Pfeiffer, Hilary Swank, and Sara Paxton.
I enjoyed Valentine's Day because I am a sucker for love stories and like some of the actors.  But I don't think I can handle another film with Taylor Swift.  She was so gut wrenchingly bad that I wanted to close my eyes and ears during all of her scenes.  Sorry if you are a fan of hers.  But that's just my opinion.  Hopefully New Year's Eve can take the few good moments of the film and add a lot more.
What actor/actress are you most excited about in this cast?  Let us know in the comments below.