'The Sandlot' 20th Anniversary Edition on Blu-Ray March 26!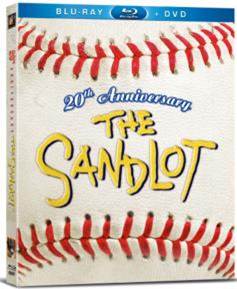 Growing up as a child in the 90s, especially being a guy, it would be hard to believe that you haven't seen The Sandlot. It was our A Christmas Story, set around baseball and being a pre-teen male. It tackled all of the subject matter that was important back then: friends, sports, girls – you name it. It's the type of film, along with Rookie of the Year, Little Big League, and Angels in the Outfield, that you can't help but to get nostalgic about.
Fast forward two decades later, and the cherished film from yesteryear is getting a 20th anniversary re-release on Blu-ray March 26.
Pre-order 'The Sandlot' 20th Anniversary Edition on Amazon for only $13.99.
The Sandlot: 20th Anniversary Synopsis:
"A charming and whimsical comedy about boys and baseball and a GREAT BIG DOG" ("Siskel & Ebert"), THE SANDLOT ranked in the Top 40 as one of the best sports movies ever.  It's early 1960s and fifth-grader Scotty Smalls has just moved into town with his folks.  Kids call him a dork – he can't even throw a baseball!  But that changes when the leader of the neighborhood gang recruits him to play on the nearby sandlot field.  It's the beginning of a magical summer of baseball, wild adventures, first kisses, and fun!
Special Features:
Featurette
Theatrical Trailer
TV Spots: "Adventure," "Heart Warming," "Winners," "Summer," "Fun," "Midnight Review," "Review"