The RZA joins Downey Jr, and Galifianakis in 'Due Date'
The Wu-Tang's RZA has been a busy man in Hollywood lately. Having just appeared in both Funny People and American Gangster, he is now tied to The Next Three Days and Warriors Way. Time to put another credit on his IMDB page, he has signed on to the new Todd Phillips directed comedy, Due Date.  RZA should get some good exposure from this, all of his co-star's are riding hot from recent successes as well as director Todd Phillips' breakout hit this summer The Hangover.
From Variety.com:
---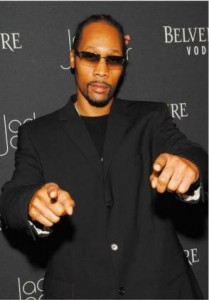 Warner Bros. has set RZA to star alongside Robert Downey Jr. and Zach Galifianakis in "Due Date," the Todd Phillips-directed comedy.
RZA joins a cast that also includes Michelle Monaghan and Jamie Foxx in the story of a man with a mismatched travel companion who races home in hopes of arriving before his wife delivers their first child.
Phillips is producing through his Green Hat banner with Daniel Goldberg. Scott Budnick is exec producer. WB is partnered with Legendary Pictures on the film, and Susan Downey is exec producing.
RZA's also attached to Paul Haggis' "The Next Three Days" for Lionsgate and is scoring producer Robbie Brenner's film "Warriors Way" for Relativity Media. Feature credits include "Funny People" and "American Gangster"; he's also the creator-producer of the Wu-Tang Clan and has scored music for films by Ridley Scott, Jim Jarmusch and Quentin Tarantino.
---
The concept doesn't seem that funny to me, but if I read the initial concept for The Hangover I might have said the same thing. It really all has to do with the script, and the actors in the roles. This one has some genuine talent behind it, so it could be another breakout hit for Phillips and crew. Also, mark my words Galifianakis is riding his way straight into A-List status (it is about time).