THE NUT JOB opens January 17! Enter to Win Passes to the St. Louis Advance Screening!
Enter to win a pass for two!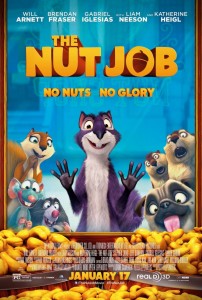 In animated 3D, THE NUT JOB is an action-packed comedy in fictional Oakton that follows the travails of Surly (voiced by Will Arnett), a mischievous squirrel, and his rat friend Buddy, who plan a nut store heist of outrageous proportions and unwittingly find themselves embroiled in a much more complicated and hilarious adventure.
Cast: Liam Neeson, Katherine Heigl, Will Arnett, Brendan Fraser, Stephen Lang, Sarah Gadon, Jeff Dunham
Director: Peter Lepeniotis
Enter the contest below!
Log on to www.gofobo.com/rsvp
and enter RSVP Code: REVIEW5M5F
Winners will be chosen at random from all entries. Supplies are limited. Limit one (1) pass per person, passes admit (2) two. Sponsor's employees and their dependents are ineligible. Screening is overbooked to ensure capacity. Please refer to passes for any other possible restrictions. NO PURCHASE NECESSARY.
Screening will take place Saturday, January 11 at AMC Chesterfield 14 (10am).