The Longbox: Batman / Superman #1, Daredevil #27, & Nova #5 (Reviews)
Daredevil #27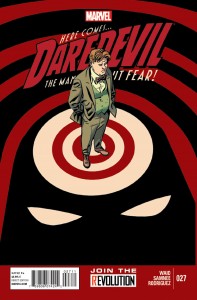 Story by Mark Waid
Art by Chris Samnee
Colors by Javier Rodriguez
Cover by Chris Samnee & Javier Rodriguez
When Mark Waid took the reigns on the Daredevil reboot 27 issues ago, I never thought I would love each issue more than the last. Waid and Company were able to take the version of Matt Murdoch that Brian Bendis, Ed Brubaker, and Andy Diggle defined as a troubled, depressed, and down in the dumps character and did a complete 180 with Hell's Kitchen resident hero. This a comic that I'm proud to hand to my non comic friends and tell them that this is a perfect representation of what a great comic is.
<!more>
In this issue, we are coming up on the end of Waid's massive first arc. There have been random little one and done stories that have taken place around the fringe of the main story, but they have all been leading up to final issue of the story. The best part is that we didn't know everything was tied together until the last three issues. Everything that has been happening in Matt's life was all set in motion by DD's great foe (does the cover give it away?).
The issue is full of twists and turns. Just when you think DD has been outsmarted, Waid whips a great curve ball. The villain of our story has told Matt that every single one of his loved ones are being targeted by assassin's. As you read through the panels, we you see that Matt has called in some favors from his friends (Spidey, Iron Fist, Black Widow, and others) to make sure his friends are protected. What came next were some great moments that show just how smart of fighter Matt really is. I don't want to say to much and give away some amazing comic pages.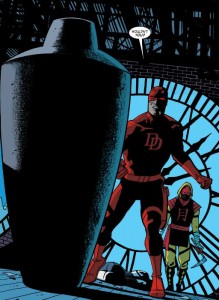 I can say, without and hesitation, Chris Samnee and Javier Rodriguez are one of the best art teams in comics today. Both men are doing some of the best work I've had to privilege of reading. I'm sure it has a lot to do with their working relationship with Mark Waid, but that doesn't down play their talent. Whether they are doing action sequences where DD is fighting ninja's or a touching moment between Matt and his buddy Foggy. This is a perfect art team for this book.
If you haven't read any of Mark Waid and Chris Samnee's Daredevil, you are missing out on what will be a legendary run. Go pick up the trades or buy them digitally. You will not regret it.