The Long Box – Comic Reviews: Star Wars #1, Punk Rock Jesus #6, and Superior Spider-Man #1
Welcome back True Believers! I hope everyone had a great start to 2013. The year should be pretty incredible for comic fans. We get a new Superman movie, the next chapter in the Marvel Studios film franchise with Iron Man 3, and we are going to get a a lot of new and fun things to talk about. Why not start with a new Star Wars comic by Brian Wood and Carlos D'Anada, a new Spider-Man, and the ending of one of the most original and controversial comic books of the year. Let's get to it shall we?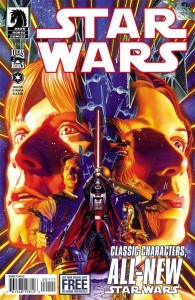 Star Wars #1
Written by Brian Wood
Art by Carlos D'Anada
Cover by Alex Ross
What's the old saying, "You can't teach an old dog new tricks?"  I don't think anyone at Dark Horse told writer Brian Wood that, because he has done just that.  This past week saw the release of a brand new Star Wars book with all of the characters from the original trilogy.  Luke, Leia, Han, Chewy, Darth Vader, and all of your other favorites (even Wedge!) return in a brand new series written by Brain Wood (Northlanders, Conan The Barbarian, and Ultimate Comics: X-Men) and with art by Carlos D'Anda (The Outsiders & Batman: Arkham City)
The series picks up after Episode 4.  The Death Star has been destroyed, the Rebellion is looking for a new home, and the Empire is hatching a new plan.  Brian Wood captures everything I love about the original series without rehashing everything.  It's pretty apparent that Wood is a fan of the source material.  He nails the tone of the characters after the end of the first film.  Luke is still the same kid.  He's lost his mentor and his family (he doesn't know Leia is his sister yet), he doesn't really know what to do with the light saber he has inherited from Obi-Wan, and he's still trying to figure out his destiny.  Leia is leading the charge to find a new home for the Rebellion, not knowing what lies ahead of her.  All she knows is that she is responsible for the lives of a lot  of people, a responibility she doesn't take lightly. Han and Chewy are doing what they do do best, being badass.  I can only assume Wood is leading us on a new path that will eventually take us into Episode 5 and 6.
The art is fantastic.  Carlos D'Anata is a name that I haven't seen in a while.  He had a good run on The Outsiders back in 2004 or so.  I haven't seen much of his work since then, and it's nice to see him back.  The problem some artists run into on a book like this is trying to make the characters look like the actors that portrayed them.  D'Anata is able to capture the likeness of Mark Hamill, Harrison Ford, and Carrie Fisher without copying their faces exactly.  They look enough like the actors without overdoing it.  D'Anata also draws a pretty sweet X-Wing and Tie Fighter.  There's a fun couple of pages where he gets to draw a dog fight between the two.  I also think he draws a great Vader.  All of the detail in his mask and chest piece is there.  He looks exactly how I remember.
This is a great jumping on point for Star Wars fans.  No Jar-Jar, no continuity, no strings.  If you love the original trilogy (like I know you do), then this is a Star Wars book you will enjoy.  I will also give away my digital code for a free copy of the book. First one to enter it gets a free copy.  Enjoy!
Digital Code: C3PBKQUP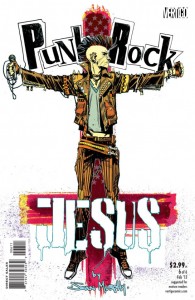 Punk Rock Jesus #6
Written and Drawn by Sean Murphy
Every once in a while, a comic will come out that really defines everything that is amazing about the medium:  A comic that is thought provoking and emotion inducing.  A comic that speaks to people in so many different ways that each person has their own take and experience with it.  Punk Rock Jesus is that book.  It's truly a book that crosses a line that few are willing to cross, and the creator behind it is intelligent and obviously well read on the subject matter.
Punk Rock tells the story about a not so distant future where reality TV has taken over, and the audience is looking for the next big thing.  In response, a media mogul named Rick Slate creates the J2 project – a new reality show centered around the clone of Jesus Christ.  Slate says they were able to pull DNA off The Shroud of Turin and clone Jesus.  There are many twists and turns that I don't want to give away, but the meat of the story is about what would happen if the Clone of Jesus (his name in the book is Chris) doesn't believe in religion? What if Chris realizes everything he is told is a lie?  He responds by doing a complete 180 and begins to rebel against all organized religion.  What if Chris joins a punk rock band called The Flackjackets and begins a war against Christanity?  You get this amazing, thought provoking 6 issue mini series.
Sean Murphy (American Vampire: Survival of the Fittest & Joe the Barbarian) does a truly amazing job of writing and drawing this book.  He's able to make us care about the former IRA operative charged with protecting Chris and his mother, makes us loath the studio head Rick Slate, and he's also able to make readers think.  The other great aspect of this book is that it's very apparent that Sean knows what he is talking about.  He's done his research.  I had the opportunity to have a small exchange with Sean on Twitter about the book.  It was obvious that this was a passion project for him, and it shows through in his writing and art.  I really can't recommend this book enough.  It was one of my favorite things to come out last year.  If you are a fan of Murphy's other work, go grab this now.  You will not regret it.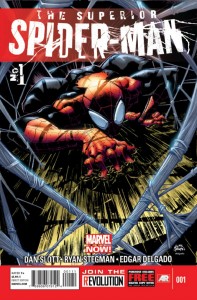 Superior Spider-Man #1
Written by Dan Slott
Art by Ryan Stegman
Ok, so you know how I wrote about The Amazing Spider-Man #700 last week?  Remember how I said they killed Peter Parker?  Remember how I said Doc Oct was the new Spidey? And remember how so many fans went insane when they read that Peter Parker was gone?  Well, don't they look silly.  Superior Spider-Man #1 was released this week to much fanfare, and the ending was no surprise to me.
This issue saw the debut of the new Spider-Man (Otto Octavius in Peter Parker's body).  What we see is Otto being a douche bag, getting his first taste of fighting super villains, a date with MJ, and a nice little glimpse into where this story will be going.  There really isn't much to tell about the issue because not a whole lot happened.  I just thought it was funny that the internet turned inside out when they thought Peter Parker was gone.  Guess what, folks?  He's not.  I'm not going to speculate on what Dan Slott's plan is, but I have a feeling it's going to be about the hero's journey to take back what is his.  If I were a betting man, I'd say we see Peter Parker back as Spider-Man in the next twelve months (just a guess).
The best part of the book was Ryan Stegman's art.  There are just some people meant to draw certain characters.  Stegman was meant to draw the Web Slinger.  He received a "try-out" on The Scarlet Spider and parlayed that into a regular gig on Superior.  I'm really looking forward to seeing more of his Spidey.
I'm also going to include the digital code of Superior. First one to use it, gets a free comic!  If you like it, give the rest of the series a chance.
Digital Code: TMM12L5JTA0D
Thanks again for reading.  You can follow me on Twitter @JoeyButts21.