"The Kids Are All Right" HD Trailer Starring Mark Ruffalo and Julianne Moore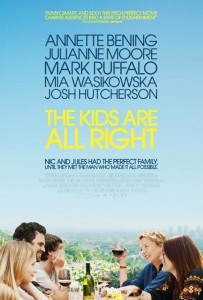 We've seen this trailer many times. Play a current catchy indie rock song (this time Vampire Weekend's "Cousin"), put it over a talented cast, and emote heavily. That isn't to say it doesn't look good, on the contrary the movie looks great. It does not stop it from being marketed to pretentious indie snobs such as myself. The cast is enough to sell a movie like this. Mark Ruffalo still isn't the leading man I had predicted he would be years ago, but he still is solid in all of his appearances. He luckily is making his way out of lame formulaic romantic comedies, and into good movies like this. Add in Annette Benning and Julianne Moore, and you have a solid top cast. Relative newcomers Mia Wasikowska, straight off her hit Alice in Wonderland, and former child star Josh Hutcherson.
The film was one of the most talked about films at Sundance this year, and looks to be vying for the same market that popular "indie" releases like Away We Go and (500) Days of Summer were aiming for.
Synopsis:
Two teenaged children conceived by artificial insemination get the notion to seek out their birth father and introduce him into the family life that their two mothers have built for them. Once the donor is found, the household will never be the same, as family ties are defined, re-defined, and then re-re-defined.
Starring: Annette Bening, Julianne Moore, Mark Ruffalo, Josh Hutcherson, Mia Wasikowska
Directed by: Lisa Cholodenko
Produced by: Jeffrey Levy-Hinte, Celine Rattray, Daniela Taplin Lundberg
Release Date: July 7, 2010 (Limited)