The Kelly Identity
If you asked Joe Kelly to define his role with the Cardinals, he probably would have been more assertive last year than right now.
When Jaime Garcia began to display arm problems last year in the middle of the season, the Cardinals brought Kelly up as some temporary relief, and he did so well they kept him on the roster through the post-season. Kelly started 16 games and did reasonably well:
16 GS, 4-6, 3.74 ERA, 1.412 WHIP, 1.84 K/BB
He was, however, much more effective in the eight games he threw as a reliever:
2.30 ERA, 1.213 WHIP, 4.00 K/BB
Perhaps it was this split that convinced management that giving Shelby Miller (incidentally, one of Kelly's closest friends) the final spot in the rotation would be advantageous, as it would give Kelly the chance to provide another laser-rocket arm.
Perhaps an unspoken benefit, this, too, would provide the Cardinals the opportunity to dial down the innings Kelly's arm would go through. As I've detailed earlier this season, Kelly has taken on quite a workload the last few seasons:
Kelly's an interesting study. Joe was drafted as a closer out of UC Riverside. In 2009, his final year there and his first year in the organization, he threw 59 innings. In 2010, that jumped to 103.1, then to 133 in 2012. Last year, he threw a combined 187 innings.
Through the first month of the season, though, the results were less than impressive. In his first 9.1 innings pitched, he gave up 18 hits, 10 earned runs, and three home runs. This gave him an ERA of 9.64 to go with a whopping slashline of .409/.426/.659, meaning basically every batter was pulling a Miguel Cabrera against him. While fellow relievers Mitchell Boggs and Marc Rzepczynski both struggled, Cardinals fans wondered which of the three (or if all three) would be optioned to Memphis.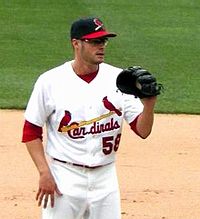 Fortunately, since May 2, he's pitched much better, holding hitters to a .256/.319/.326 slashline with a 1.99 ERA. While his overall lines still aren't great (0-3, 4.22 ERA, 1.500 WHIP), they are slowly creeping back down to respectable levels. Kelly's also been walking fewer batters (2.3 per 9 innings, 3.0 last year) and striking out more (7.3 per 9, 6.3 last year).
Where he's really been shining, though, has been in his spot start/long relief appearance. Twice this year, Kelly's pitched five or more innings in an appearance: one spot start in Arizona on June 5, and last night against the Rangers. The results:
June 5: 5.2 IP, 4 H, 1 ER, 1 BB, 2 K
June 21: 5 IP, 5 H, 0 ER, 0 BB, 3 K
With Tyler Lyons struggling in his last few starts, it could well be the case that the Cardinals demote Lyons and replace him with Kelly. They could also modify the rotation and utilize four pitchers for the next couple weeks, as after the Series with Texas, they have three off days in eight days. Regardless, I would expect Machine Gun Kelly to play a more prominent role before the All-Star break.