'Machete Kills' Official Trailer (2013) Starring Danny Trejo, Lady Gaga, Antonio Banderas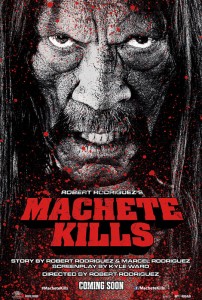 It all started off as a faux-trailer in Grindhouse. But there is nothing fake about the $44 million dollars that Robert Rodriguez' Machete made worldwide in 2010.
When the Machete trailer received one of the best reactions between Rodriguez' Planet Terror and Quentin Tarantino's Death Proof, they knew they had the makings of a hit on their hands. Rodriguez took his idea to the Weinsteins, who oddly turned it down. Rodriguez' Spy Kids films with Miramax and Dimension have profited over $400,000 between the four of them, not to mention all of his other work with the brothers. So the director took his little project to Fox, and it made 4 times its budget back in theaters.
Three years later and we finally have a sequel – Machete Kills. The film looks absolutely ridiculous, which is what it's all about when it comes to this franchise. What makes it even better is the amount of stars it has in it. Michelle Rodriguez, Sofía Vergara, Lady Gaga, Antonio Banderas, Cuba Gooding Jr., Jessica Alba, Mel Gibson are among the cast. And introducing Carlos Esteves as the President (yes, that is Charlie Sheen).
Watch the trailer for Machete Kills:

In theaters September 13th, 2013
What do you think of the trailer? Do you think Rodriguez can strike gold twice? Tell us in the comments below!