The Hidden Gem – "Flawless" starring Demi Moore and Michael Caine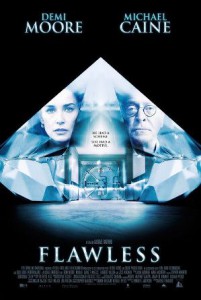 "The Hidden Gem" is all about my personal favorite films.  And while some of the films I discuss may not be hidden to most movie fans, they are hidden to a majority of my friends and people that I have talked to.  So I want to discuss them for three reasons: 1. Tell you why they are great. 2. Get more people to see the particular film. 3. See how many of you readers have seen this film and also love it.
Plaza Fontenac shows some of my favorite hidden gems.  Movies that don't see a wide release due to lack of a big studio funding it, but great films none the less.  Most of these movies will be spotlighted in this article eventually.  Flawless is a movie that I saw the trailer for, and I was immediately interested.  I love Michael Caine.  I love a good heist film.  And I loved that the film took place in the '60s.  I entered the theater hoping for great things.  I wouldn't go as far as to say that Flawless is a great movie, but it is a film that comes highly recommended.
Laura Quinn, a bright, driven and beautiful executive at the London Diamond Corporation finds herself frustrated by a glass ceiling after years of faithful employment, as man after man is promoted ahead of her despite her greater experience. Hobbs, the nighttime janitor at London Diamond, is virtually invisible to the executives that work there, but over the years has amassed a startling amount of knowledge about how the company runs. Hobbs has his own bone to pick with London Diamond. Observing Laura's frustration, he convinces her to help him execute an ingenious plan to steal a hefty sum in diamonds. But unbeknownst to Laura, Hobbs plans go even farther than he's let on, and together they set in motion a thrilling heist of dizzying proportions, the likes of which London has never seen.
Demi Moore stars as Laura Quinn and plays the role quite well.  I am not exactly blown away by anything Ms. Moore has done on screen, but she fits the role and plays it exactly how she should.  Michael Caine is the real stand out here just like he is in many of his films.  This is exactly the type of role I love to see him in.  Smart. Deceiving. And up to no good.  He appears to be having fun in the film just like he does in most of his movies.
Flawless is not a heist film like you have seen the big studios do.  This is not a film all about the heist and the plans like Ocean's Eleven or The Score.  I like to compare this to something like The Bank Job.  The actual heist is a very small part to the film.  The story focuses much more on the reasons for the heist and what happens next. 
This is a film that I think needs to be seen.  I have been badly burned before when walking into movies expecting to love it.  This was not one of those films.  If you are a fan of either one of these actors or a fan of heist films then you owe it to yourself to check this out now.  Then when you are done check it The Bank Job.  It is just as good if not better. 
Have you seen this film?  Let us know what you think of it in the comments below.