'The Great Gatsby' Starring Leonardo DiCaprio Opens May 10! Enter to Win Passes to the Advance Screening!
Enter to win a pass for two!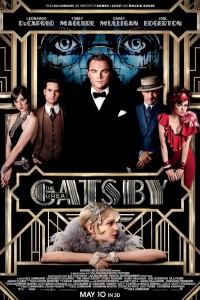 From the uniquely imaginative mind of writer/producer/director Baz Luhrmann comes the new big screen adaptation of F. Scott Fitzgerald's novel, The Great Gatsby. The filmmaker will create his own distinctive visual interpretation of the classic story, bringing the period to life in a way that has never been seen before, in a film starring Leonardo DiCaprio in the title role. "The Great Gatsby" follows Fitzgerald-like, would-be writer Nick Carraway as he leaves the Midwest and comes to New York City in the spring of 1922, an era of loosening morals, glittering jazz and bootleg kings. Chasing his own American Dream, Nick lands next door to a mysterious, party-giving millionaire, Jay Gatsby, and across the bay from his cousin, Daisy, and her philandering, blue-blooded husband, Tom Buchanan. It is thus that Nick is drawn into the captivating world of the super-rich, their illusions, loves and deceits. As Nick bears witness, within and without the world he inhabits, he pens a tale of impossible love, incorruptible dreams and high-octane tragedy, and holds a mirror to our own modern times and struggles.
Cast: Leonardo DiCaprio, Tobey Maguire, Carey Mulligan, Joel Edgerton, Isla Fisher, Jason Clarke, Elizabeth Debicki, Amitabh Bachchan, Jack Thompson
Director: Baz Luhrmann
The Great Gatsby has been rated PG-13.
Use the contest app below to "like" ReviewSTL on Facebook  – then tweet, share, or comment for additional entries!
Winners will be chosen at random from all entries. Supplies are limited. Limit one (1) pass per person, passes admit (2) two. Sponsor's employees and their dependants are ineligible. Screening is overbooked to ensure capacity. Please refer to passes for any other possible restrictions. NO PURCHASE NECESSARY.
Screening will take place Monday, May 6 at Wehrenberg Ronnie's 20 Cine (7pm).