'The Colony' Poster and Trailer (Laurence Fishburne, Bill Paxton, Kevin Zegers)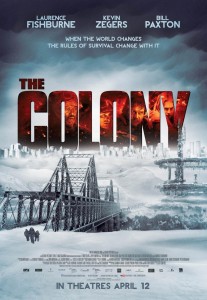 If you were to look at who the two main stars of The Colony were, you would probably assume it's a star vehicle from a decade and a half ago, and you'd be very wrong. Laurence Fishburne and Bill Paxton have had their share of hits, but they are no longer driving people to the theater, which is why they are starring together in a dystopain future zombie film. The trailer starts out simple enough, humans destroyed the earth, it's super cold now, blah, blah, blah, blah…ZOMBIES! Yeah, I was just as surprised as you are. Apparently, Hollywood isn't done with the zombie craze, and pairing it with a sci-fi dystopian future is their next step. I'm just waiting for the inevitable when they decide to go all out and do Vampires vs. Zombies (starring Taylor Lautner as all characters).
Synopsis:
Award-winning director Jeff Renfroe (One Point O, Civic Duty) delivers an action-packed, post-apocalyptic thriller in his icy feature THE COLONY. Set during the next ice-age, an outpost of colonists struggle to survive below the world's frozen surface. Short on supplies, and plagued by illness and internal conflict, the colonists suspect the worst when they mysteriously lose contact with their only other known settlement, Colony 5. When Colony 7's leader Briggs (Laurence Fishburne – Contagion, The Matrix Trilogy) decides to lead an expedition to discover what happened, he is challenged by Mason (Bill Paxton — Aliens, Twister), his former comrade-in-arms, who has his own ideas of what is best for the colonists. Briggs takes two volunteers on the mission, the young Graydon, and Sam (Kevin Zegers – Fifty Dead Men Walking, TV's Gossip Girl), a strong-willed mechanic who seizes the opportunity to confront the icy wasteland that orphaned him. When they reach their destination, the team discover a threat much worse than nature and must battle to save themselves and protect their fellow colonists in what might be humanity's last stand. A riveting, intense story of survival, humanity, and desperation, THE COLONY is a rich addition to the post-apocalyptic action genre.