THE BOURNE FRANCHISE FINDS ITS REPLACEMENT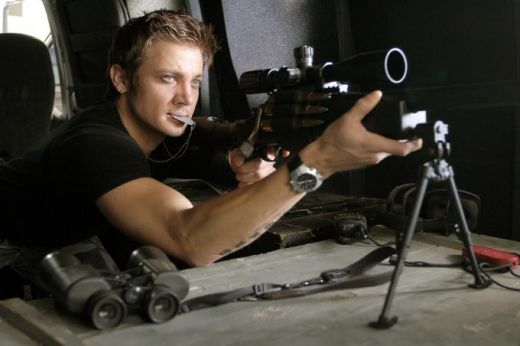 I am not even sure if I need to say it, but I will anyway.  The BOURNE franchise should quit while its ahead.  It somehow managed to accomplish the impossible: a trilogy that managed to all be great films and all managed to get better with each entry.  Plus, Greengrass is out which means that Damon is out.  Again, quit while you are ahead.
But the studio says BOURNE will live on.  They already have Tony Gilroy signed on to write and direct which actually is a good jumping off point since he wrote all three BOURNE films as well as writing and directing MICHAEL CLAYTON and DUPLICITY.  So now the studio just needs a star that is as perfect as Matt Damon.  No easy feat.  After names like Garrett Hedlund, Dominic Cooper, Luke Evans, Joel Edgerton, Taylor Kitsch, and Logan Marshall-Green were mentioned as leading candidates, one man has emerged to carry this franchise forward.
Jeremy Renner has reportedly signed on to star in THE BOURNE LEGACY.  According to Deadline, Renner is "an operative from a covert government program that is even more dangerous than the Treadstone brainwashing program that hatched Bourne."
The only problem I have with this is that Renner will co-star with Tom Cruise in the upcoming MISSION: IMPOSSIBLE GHOST PROTOCOL.  And I was under the impression that Renner was going to be the new lead for that franchise.  I just feel like the two franchises are too similar to share the same star.  But who am I to judge.  I loved Renner in both THE HURT LOCKER and THE TOWN so I am happy to see him getting more work.