NEW TEXAS CHAINSAW MASSACRE SEQUEL FINDS A DIRECTOR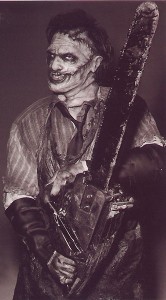 I think I am one of the few people who loved THE TEXAS CHAINSAW MASSACRE remake.  And it was not because Jessica Biel looked great in it.  The movie freaked my freak.  And honestly, I don't understand why people hate on it so bad.  Now the prequel is a whole different story.  That film was terrible.  So why make a sequel to two films that were critically hated?  Because it will be in 3D which will instantly make the film so much better.  Ummm….
Well regardless of whether a sequel is needed or not, it's coming.  John Luessenhop is currently in talks to direct LEATHERFACE 3D.  Let's overlook the terrible title and jump to who the hell is John Luessenhop.  He directed TAKERS in 2010 and LOCKDOWN in 2000.  What an extensive resume!
I just feel like Leatherface is the type of villain who needs no sequel or prequel.  And I really only base that on the fact that I have no idea where they could take the story.  Give us your plot ideas in the comments below.