Writer vs. Musician: American Idol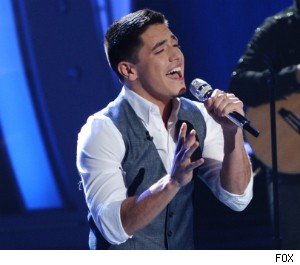 Writer vs Musician: American Idol Performances (4/20/11)
Advisory: Only the performances are recapped/reviewed here because we feel the need to form our own opinion on the show. The Writer, or Average Joe, is Jeff Siler and the Musician is Topher Schaller, of St Louis Local band The Phranklyn Project, and we come at this show from both an "Average Joe" and a Musician's perspective.
Performance Show
The Contestants are singing songs from the 21st Century this week. Jimmy Iovine, who's been around all season, is still there to help the contestants while Will.i.am is not there. The showed started with a performance of Pink's "So What" by all the cast offs from this season.
Jeff: Didn't care for their Performance
Topher: Didn't mind the females portion of the performance, but once last weeks cast off Paul McDonald came in mid-song, the harmonies went all of the place and the song became very hard to listen to.
Set List
Scotty McCreery- Leann Rimes's "Swinging"
Jeff: Generic Country song choice, didn't care for the performance
Topher: Usually one of my favorite perfromers, this weeks performance was dry and not up to par with previous weeks.  The song was not right for his vocal style.
James Durbin- Muse's "Uprising"
Jeff: Not my favorite Muse song but a good performance besides some pitch issues
Topher: Not a fan of James Durbin, but that being said, week after week he continues to deliver.  I thought the performance was fairly professional, the song choice was on point, and I actually like the fact that he sang the last chorus in his falsetto.  I'm quickly starting to change my mind about not liking this kid.
Haley Reinhart- Adele's "Rolling in the Deep"
Jeff: Song fit her voice, favorite of her performances
Topher: I agree with Jeff and the song fitting her vocal range, but not my favorite of her performances.  Mostly because she ended up just sounding like an Adele clone.  If you are going to choose to cover a song thats on the radio now, you have to either sing it better or do it with your personal twist.  She didnt do either.
Jacob Luck- Luther Vandross's "Dance With My Father"
Jeff: Generic Gospel song choice, still don't care for his voice
Topher: Jacob seems bored with this compitition.  For the last few weeks his performance seem phoned in, with only a few glimpses of what i enjoyed originally about him. I hate to say it, but worst performance of the night.
Casey Abrams- Maroon 5's "Harder to Breathe"
Jeff: Great performance, short and simple!
Topher: I always like Casey.  I'm glad they saved him four weeks ago, because he has continued to deliver top rate performances and push the idol bounderies.  I didnt enjoy this song when it came out by Maroon 5, but Casey version was top notch.
Stefano Langone- Ne-yo's "Closer"
Jeff's: Generic song choice, one of the better performances though
Topher: Stefano always seems to me like he needs four other guys behind him singing boy band pop songs.  This was his best performance to date and pitch wise he is always on point.  But his voice isnt strong enough to stand out amongst this pack of talented singers.  Although his sway on stage this week just might buy him another week. Maybe.
Lauren Alaina- Sara Evans' "Born to Fly"
Jeff: Another Generic Country song, good performance though
Topher: Usually one of my favorite performers on the show, this week was a major let down.  The performance was fair at best, vocals were okay but kind of weak, and the song was a terrible generic choice.  The competition is way too tight to have a forgettable performance (just ask Pia Toscano, the front runner of the whole show, who had one generic performance and go voted off).
Jeff's Opinion on American Idol: The Performance's- This was one of the tougher weeks for me because I really didn't care for a lot of the performances. I mean Haley really impressed me for the first time this season and I think if she can stick to that style of music then she could take the whole thing. Other than her performance I wasn't overly impressed by any of the other performances throughout the night. I have high expectations for Casey and James and they haven't let me down yet, so I won't talk too too much about their performance's, other than I really didn't care for the high pitchedness of James on the high notes in "Uprising". I truly feel that if Scotty and Lauren continue doing, what I look at as "safe" performances, it is going to come back and haunt them and America is eventually get rid of them, but not this week. Stefano is probably in the most danger because he is continually in the "Bottom Three" and this may finally be his week to go, even though I liked his performance. Now I'm hoping America can finally vote Jacob off because I feel he just has a very generic Gospel voice that is not going to do much, if he was to win this competition.
Topher's Opinion on American Idol: The Performance- I agree with Jeff with this being one of the tougher weeks, but mostly because I feel the pack is close.  The Josh and Casey push the envelop with solid performances, but I question just how far Idol fans will let them go.  Scotty and Lauren had what I though were the worst performances of their Idol career, but I'm hoping that America loves them enough to give them another chance.  Stefano will be going home eventually, but I find it funny that he was a wild card choice, always in the bottom three, but always seems to come back week after week.  Haley was also a wild card choice and is often in the bottom three, and honestly I think she has only survived because of the lack of females in the group.  She is way over her head in my opinion and doesnt have the chops to go the distance.  Finally there is Jacob.  Jacob needs to go home.  Not just because I find his vocal style to be non-Idol-ish, but because he doesnt seem to want to be there anymore.  Even at the end of the show he stood behind the other contestants.
Jeff: Now here is our Bottom Three according to what we saw and I also threw in what I think will actually happen.
Jeff's Bottom Three
#1 Jacob Lusk
#2 Scotty McCreery (Second straight week)
#3 Stefano Langone
With Jacob going home this week. Now I would love to see this happen but America usually doesn't agree with me.
Topher's Bottom Three
#1 Jacob Lusk
#2 Scotty McCreery
#3 Lauren Alaina
With Jacob Lusk going home.  Make the boys wish come true.
America's Bottom Three
#1 Jacob Lusk
#2 Stefano Langone
#3 Lauren Alaina
With Stefano going home. I feel it is finally going to happen this week. America continually puts this guy in the Bottom Three and I think he's finally gone.
Jeff: Now last week I did get this right, for the most part, so you should pay attention and see if I'm actually right when the results show airs later tonight on the Fox Networks
Results Show (4/21/11)
They had David Cook return to the Idol Stage and debut his new song "The Last Goodbye" and Katy Perry hit the stage with Kanye West and performed her hit "E.T.". The Contestants then hit the stage in different groups with Jacob, Haley, Lauren, and Stefano performing Train's "Hey Soul Sister" and then Casey, Scotty, and James performed Coldplay's "Viva La Vida"
(My Opinion: All the performances from the night were much better than they have been in previous weeks)
Results
Seacrest first stands Casey and Jacob up and announces that Jacob is in the Bottom Three, with Casey being safe. Next, Lauren, James, and Stefano are brought down and Stefano is sent to the Bottom Three and the other two are safe. Finally, Ryan brings Haley and Scotty down on stage and Haley is made the third member of the Bottom Three.
Bottom Three
#1 Jacob Lusk
#2 Stefano Langone
#3 Haley Reinhart
Ryan immediately sends Haley back to safety, basically giving her time to sit down and then back up, leaving Jacob and Stefano left for elimination. Finally, Seacrest announces that Stefano Langone has been eliminated from American Idol. The crowd has a kind of mixed reaction again this week. Stefano chooses to go out on the song "Lately".
Next week they dive into the music of Carol King
Now Here's My Opinion on American Idol: The Results- What? Is that two weeks in a row that I predicted what America was going to do? Well I always get the end result right, but two out of three in the Bottom Three isn't too bad. One thing that I have noticed the past couple weeks, is that both Paul and Stefano seemed to be kind of glad when they were eliminated, which is upsetting being that they are in a competition and they are happy to lose this competition? Now I didn't see why Haley could have been in the Bottom Three, because in my eyes she had the best performance of the night Wednesday and I truly felt that she was safe from elimination but America continually puts her in the Bottom Three and they is not going to end well for her. All in all America got the elimination right and next week I am hoping that Jacob finally goes home.
© 2011 Jeff Siler and Topher Schaller