"The American" HD Trailer Starring George Clooney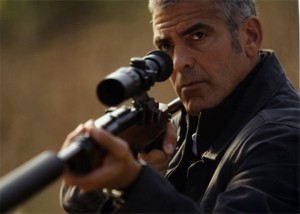 George Clooney does his best Jason Bourne impression in the latest trailer for Anton Corbijn's The American. The trailer for this film gives me mixed emotions. It doesn't look to spoil the plot for you, which is always a plus, but it doesn't really sell what genre it is in either. I can't decide if  this is meant to be a spy thriller or if it is supposed to be Clooney's character leaving the spy game for a true love. The romance in the trailer is certainly well promoted, and I don't know if they are just trying to appeal to the female demographic. Who knows? This is what I do know, George Clooney has taken pretty solid roles through and through lately, and I rarely doubt his choices. I'm hoping this will be another great film, rather than another Men Who Stare at Goats.
Synopsis:
Alone among assassins, Jack is a master craftsman. When a job in Sweden ends more harshly than expected for this American abroad, he vows to his contact Larry that his next assignment will be his last. Jack reports to the Italian countryside, where he holes up in a small town and relishes being away from death for a spell. The assignment, as specified by a Belgian woman, Mathilde, is in the offing as a weapon is constructed. Surprising himself, Jack seeks out the friendship of local priest Father Benedetto and pursues romance with local woman Clara. But by stepping out of the shadows, Jack may be tempting fate.
Starring: George Clooney, Bruce Altman, Thekla Reuten, Paolo Bonacelli, Violante Placido
Directed by: Anton Corbijn
Release Date: September 1, 2010 (Limited)