Superman vs. The Elite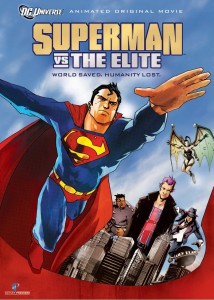 Synopsis:  Based on the comic series "What's so funny about truth, justice, and the American way?", the Elite are a group of super powered beings who gain fame for killing their foes.  Superman believes this is not the solution and will stop at nothing to prove to the population that death is not the answer.
Starring:  George Newbern, Pauley Perrette, Robin Atkin Downes
Directed by: Michael Chang
Release Date:  June 5, 2012
My Take:  While I love this series of animated films from DC, I am not the biggest Superman fan in general, and I think the animated style of this feature is a little less than what I would expect from DC animated.  I like the concept though, and think that the film will provide some good moments.
[hdplay id=439 width=595 height=375]