Superbowl Special: The Next Ten Football Movie Classics
When it comes to football movies, the top 10 classics would most likely include Brian's Song, Knute Rockne All-American, maybe even the Marx Brothers classic, Horse Feathers, but those are…like really old. So if you want to get in the football spirit before you fire up the slow-cooker this weekend for some chili cheese dip and watch the "Super…football…game…show" (stupid trademarks), you might want consider watching one of these modern classics in…The Next 10.
The Next 10 Modern Football Movies: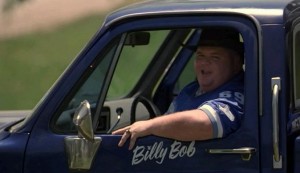 10. Varsity Blues
Q: What number are you giving Varsity Blues in your list?
A: I give it a 10!
Hopefully you don't dismiss Varsity Blues as "just another teen movie", while it's certainly not a masterpiece, Varsity Blues captures the idealistic virtues that define adolescence many young people. A great cast giving exceptional performances and a screenplay that gives the viewer an emotional experience allows Varsity Blues to begin our list. Not to mention the great use of The Foo Fighters song "My Hero" in one of the final climactic scenes.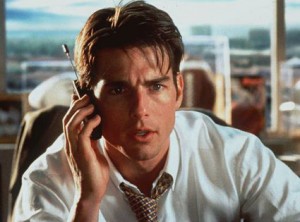 9. Jerry Maguire
Much like Titanic, Jerry Maguire got almost too popular for its own good. Remember that Jerry Maguire is much more than "show me the money" and is in fact a great movie that manages to mix a romantic comedy with a sports movie and a legitimate drama into one cohesive memorable piece of film. A film that was nominated for two Oscars, Jerry Maguire is a film you may want to revisit if you haven't seen it since it was released 15 years ago.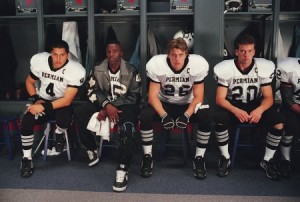 8. Friday Night Lights
Directed by Chicago Hope's Peter Berg (who also directed The Kingdom and Hancock), Friday Night Lights is what Varsity Blues could have been if it hadn't focused so much on comedy. Somewhat overshadowed as a film since the creation of its spin off television show, Friday Night Lights successfully captured the pressure and tension of small town high school football.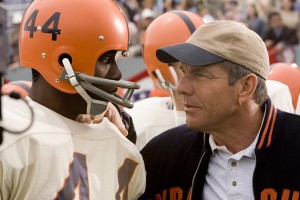 7. The Express
Set against the backdrop of the American Civil Rights movement, The Express is the story of Ernie Davis and his journey to the National Championship and the Heisman Trophy. This under-rated biopic features superb performances from its entire cast and paints a picture of what the emerging African American population in college sports endured.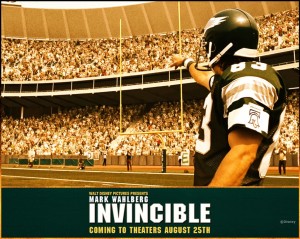 6. Invincible
Starring the polarizing Mark Wahlberg, Invincible tells the Cinderella story of 30-year old bartender Vince Papale and his rise to NFL status under the equally polarizing Philadelphia Eagles head coach, Dick Vermeil. Yes it's a Disney movie, but it still manages to tell the age old underdog story extremely well.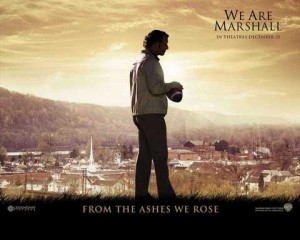 5. We Are Marshall
While it's definitely one of the saddest movies on this list, We Are Marshall is a tear jerker that manages not to be hopelessly depressing. One of the few watchable Matthew McConaughey movies, We Are Marshall shows us what it means to overcome. With an enviable supporting cast, boasting the likes of David Strathairn, Ian McShane, Matthew Fox and January Jones, We Are Marshall is a film more people should see.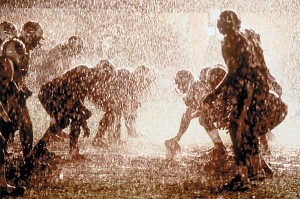 4. Any Given Sunday
Unlike the other films on this list, Any Given Sunday is not inspirational or "touching". Any Given Sunday is a raw, yet flashy look into the world of professional sports. In one of his first real, substantive roles, Jamie Foxx gives us a taste of the talent that will prove to be Oscar-worthy 6 years hence. Full of profanity, drugs, sex and nudity, director Oliver Stone doesn't hold back in this gritty look at pro football.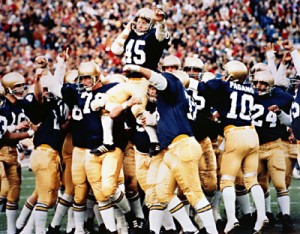 3. Rudy
Perhaps the most iconic film on this list (and the oldest); Rudy is about the hobbit-sized wannabe football player at Notre Dame. Many have called it corny, but in reality, most people would call The Wizard of Oz corny if they weren't so emotionally attached to it. Rudy is almost a piece of Americana, this timeless tale of overcoming adversity, rooting for the "little" guy, being the underdog and all that other stuff, makes Rudy one of the best modern football movies.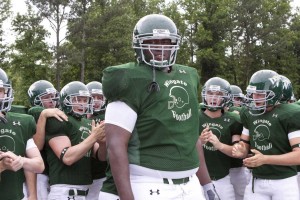 2. The Blind Side
Only time will tell if America's love affair with The Blind Side will stand the test of time, but for now, this film remains one of the best football movies to come out in the last 20 years (second best to be exact). While Sandra Bullock's performance may not have entirely been Oscar worthy, she and the rest of the cast did perform admirably and managed to keep the story from feeling corny or condescending.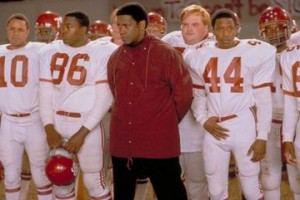 1. Remember the Titans
Remember the Titans is one of those few movies that could be shown in a school or in a prison and it would be equally liked in both settings. While many films on this list prove that they can incorporate many different genres or themes into their films, this one does it best, and it does it with a PG-rating. This Disney film isn't trying to be anything it's not and it doesn't falsely inject any extra sensationalism to boost its ratings. Much like the Shawshank Redemption in that regard, this is a pure film that is great because it tells a great story and leaves it at that.
Are you mad that "Angels in the Endzone" and Air Bud: Golden Receiver" didn't make the list? What do you think are the best football movies? Let us know below.