Sundance Festival 2011 – "I Saw the Devil" Review by the Raven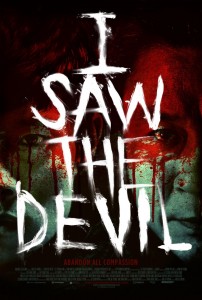 Any true horror movie buff can tell you that some of the best scary films are of Asian origination.  Look at the original "Ringu".  So I was hopeful to see a Korean horror film entered at Sundance…and let me tell you, it did not disappoint!  Director Kim Ji-woon has his finger on your pulse and keeps it there so he can measure the amount of fear he strikes as he unfolds this masterpiece of revenge.
The tale starts off with a beautiful girl stranded on the side of a lonely highway, talking to her fiancé on the phone.  She is waiting for a tow truck, when a school bus driver approaches the car and asks her if she needs some help.   She of course says no, and he walks away.  And then we begin the descent into hell.  The woman is of coarse grabbed and beaten, then taken to a warehouse where….ugh.  I cannot tell you the rest!  Turns out her man is a secret agent type, and after she is found beheaded, he decides to go all Dexter on the killer. Oh and did I mention her daddy is also the Chief of Police?   The ensuing cat and mouse game that plays out on the screen for two hours is as riveting as it is grotesque.  I mean, how DO you make a psychopath really suffer?  It's not like they have any fear of anything right?
Ji-woon has an eye for detail as well as a sense of humor that plays out in a few scenes.  It could have messed up the action, but he has great timing.  He throws in a few good jump-out-of-your seat moments and keeps the pace moving pretty well.  I would love to see him shave (no pun intended!) a few minutes off the length of the film.  But as it is you still get one amazingly bizarre tale.  The film is beautifully shot and laid out, the scenes are so perfect you think it is really happening before your eyes.  If the ending doesn't get you, well you might want to check your pulse!
Review (c) 2011 Stephe Raven | [email protected]