Sundance Coverage: Opening Day
Stephe Raven from "The Great Big Entertainment Show" and "The Flick Fanatic.com" is providing us with some Sundance Film Festival coverage. Here is her coverage from the first day.

SUNDANCE OPENS!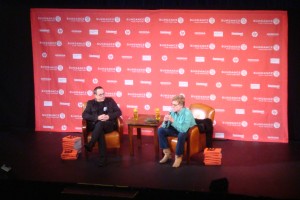 Well, it's less than 7 hours away from the start of the 2010 Sundance International Film Festival here in snowy Park City Utah!
As he does every year, Robert Redford opened the ceremonies with a press conference from the famous Egyptian Theatre, joined by new Festival Director John Cooper. John has been with Sundance since 1989 when he himself was a volunteer.
Redford fielded questions from the press about many subjects including his thoughts on the changing of the environment towards independent films vs. the large scale studio films. He did not see them lessening their hold, and said that he felt the economy was going to continue to be a factor.
He and John both feel the Internet and technology will continue to help festivals like Sundance grow, and also put the spotlight on independent filmmakers trying to get their films out to the world, especially folks from lesser countries that would not ordinarily get into the spotlight.
Redford continues to champion the independent spirit, as well as speaking out against the outside guerrilla style marketing that has plagued the festival in past years. He strives for the focus to remain on film, and said it was one of his life achievements to continue his work. Redford even gave a small teaser about a new film he is working on involving Abraham Lincoln. If you have not noticed, Redford makes movies about America and its history.
There are some amazing movies this year…Wasteland, Bhutto to name a few in the documentary class. There is also the Runaways and Howl in the Features class. And many more in between.
It is a true inspiration to see someone with Redford's clout stick to his passion and strives to make film an important focus for not only this country but the entire world.
DAY ONE OF THE FESTIVAL..
So it's Day One here at the 2010 Sundance Film Fest….the snow is blowing, the films are hot! So I guess you can say I'm having a slushy time!
We started yesterday off by going over and watching the Grand Prix Snowboarding competition, where the last prequalifications for the Vancouver Olympics are happening! Infamous bad boy Shaun White is here. I was able to get a few photos of the half pipe, but they delayed the competiton due to wind! But they more than made up for it, having a great concert during the evening with 30 Seconds From Mars.
Let's dive into some films! It's so crazy…imagine this: films start to run at 8:30am and go through 2am, so we are literally running from one to the next! And the crowds are running with us! I have been able to see four films so far, down from the usual 6 to 8 from previous years.
Here is some of what I have seen so far:
Wasteland – Directed by Lucy Walker, is a wonderful documentary following the journey of Brazilian artist Vik Muniz as he travels back to Jardim Gramacho, Brazil to live for a year and create some of his intricate art pieces. These particular pieces are based on the peoples that work at one of the largest city landfills in the world. And director Walker catches the emotions in such detail and sensitivity to each persons story. Muniz has a talent for mixing the media that he works with to match the people he meets. These workers have formed a union and the documentary does a fantastic job of delving into their lives and their work. Muniz has had his work displayed all over the world, and getting an inside view into how he works was just simply amazing.
Frozen – Directed by Adam Green, was a ridiculous but gory look into what happens to three friends out for a day of snowboarding and skiing. The trio gets onto a lift, only to have it accidently shut down while they are halfway up the mountain. Director Green gets the most out of the audience when he throws every conceivable disaster that could possibly happen, with as much blood and nastiness as we could handle. Starring Emma Bell, Shawn Ashmore and Kevin Zegers as the misfortunate skiers, we are thrown into a snowstorm, a wolf attack and the possible breakdown of a friendship.
While I found the concept of the film to be interesting, I was disappointed in the acting. I found myself wanting to actually sacrifice Emma's character for the good of the audience!
See ya with more updates!
For more go to TheFlickFanatic.com