Summer Preview – Transformers: Revenge of the Fallen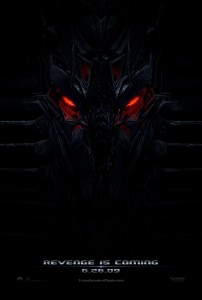 In my opinion Transformers (2007), directed by Michael Bay, was a HUGE sleeper hit two years ago. Now don't get me wrong; I grew up with Transformers. I had all of the toys – even the huge Optimus Prime that transformed into a large truck with trailer attachment. But did I ever expect that Transformers would be a box office smash? In one word – no. I remember when I was psyched about the original "Transformers: the Movie" – finally coming out on DVD. I thought that it would be the last big triumph for the franchise. I was wrong.
This summer, prepare for the next installment of the mega blockbuster Transformers reboot: "Transformers: Revenge of the Fallen." Expect the transformers to be bigger; the action to be packed; and a whole lot of explosions.
The trailer starts off showing a bunch of meteors (transporting transformers no doubt) landing in what appears to be Egypt, on an aircraft carrier, and France (right by the Aiffel Tower). From there all hell breaks loose. The synopsis states that Starscream is in charge of the Decepticons – but I see no footage of him in the trailer (at the end of the first movie, we see him fly off into space). But the main Decepticon shown in the trailer seems to be some gigantic, bad-ass unicycle robot. So who is that supposed to be? Well apparently he is only one of several Constructicons that will transform into Devastator. Take a look at how large that one Decepticon is – can you imagine what Devastator will look like?
Of course Shia LeBeouf returns to reprise his role as Sam Witwicky, the teenager who fought side by side with the Autobots to destroy Megatron in the first film. Megan Fox is back as well, playing Sam's girlfriend Mikaela Banes. Sam and Mikaela are once again trying to escape the Decepticons, who would love nothing more than to destroy them both.
I am looking forward to seeing how this film turns out. With the major success of the first movie (bringing in $319,246,193 US and $389,026,399 Internationally) we can only expect for this sequel's numbers to dwarf it's predecessor.
Check out the trailer for Transformers: Revenge of the Fallen – In Theaters 6/4/2009