"Stone" HD Trailer Starring Robert DeNiro, Edward Norton, and Milla Jovovich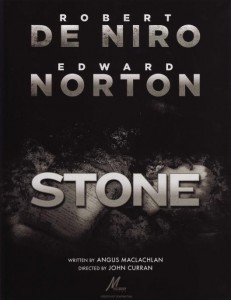 I don't think I've ever been so torn between being cheeped out and intrigued at a film. At first I was very excited about Edward Norton in role that at first glance reminded me of his head turning performance in American History X.  Then the trailer turned from interesting thriller, to me wanting to somehow bleach the thought of Robert DeNiro and Milla Jovovich getting together.  I don't think I would've cared that much normally, it just wasn't where I thought the trailer was leading me.  At least it has a strong cast right?
Synopsis:
Academy Award winner Robert De Niro and Oscar nominee Edward Norton deliver powerful performances as a seasoned corrections official and a scheming inmate whose lives become dangerously intertwined in Stone, a thought-provoking drama directed by John Curran and written by Angus McLachlan. As parole officer Jack Mabry (De Niro) counts the days toward a quiet retirement, he is asked to review the case of Gerald "Stone" Creeson (Norton), in prison for covering up the murder of his grandparents with a fire. Now eligible for early release, Stone needs to convince Jack he has reformed, but his attempts to influence the older man's decision have profound and unexpected effects on them both. Stone skillfully weaves together the parallel journeys of two men grappling with dark impulses, as the line between lawman and lawbreaker becomes precariously thin. The film's superb ensemble features Milla Jovovich as Lucetta, Stone's sexy, casually amoral wife, and Golden Globe winner Frances Conroy as Madylyn, Jack's devout, long-suffering spouse. Set against the quiet desperation of an economically ravaged community and the stifling brutality of a maximum security prison, this tale of passion, betrayal and corruption examines the fractured lives of two volatile men breaking from their troubled pasts to face uncertain futures.
Cast: Robert DeNiro, Edward Norton, Milla Jovovich, Frances Conroy
Director: John Curran
Release Date: October 8, 2010
[hdplay id=84 width=595 height=375]