Steve Kelley Reviews "Moneyball" Starring Brad Pitt and Jonah Hill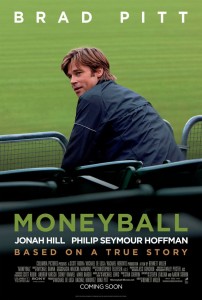 "It's hard not to romanticize baseball."
Anyone who's played baseball and/or has a passion for the game can understand the sentiment voiced by Billy Beane in Moneyball. Other films such as Field of Dreams have done so with tremendous success. Moneyball, on the other hand, doesn't do so. Based on the novel by Michael Lewis, the book is less about the idyllic aspects of baseball and more about the business of fielding a competitive team on a budget. My friends know that I'm a huge, huge baseball fan, so I've been looking forward to this film for a while, as there haven't really been a lot of baseball films to come out in the last decade.
Like most dates I go on, I expect awesome times. Unlike most dates I go on, this one does not disappoint in the end.
Moneyball focuses on the 2002 Oakland Athletics and its general manager, Billy Beane (Brad Pitt), who's forced to build a winner on an extremely tight budget. Although the 2001 A's won 102 games, they lost in the first round of the playoffs to the New York Yankees, who seem to have bottomless wallets. On top of this, the A's are about to lose three of their top players to free agency (one of which, Jason Isringhausen, came to our very own Cardinals), with no financial means to replace them.
Beane, desperate to find a solution, attempts to set up a trade with the Cleveland Indians. Although he fails, he takes notice of a special assistant to the Indians' general manager named Peter Brand (Jonah Hill). Hill is an awkward but brilliant analyst who graduated from Yale with an economics degree. Brand, as it turns out, is a follower of Bill James and his idea of sabermetrics, a vastly different school of thought from the traditional methods. Sabermetrics focus less on batting average and standard scouting reports and more on on-base percentage and other utilities (more on this in a little bit). As a former major league player who was highly touted as a can't-miss prospect, this strikes Beane close to home and he hires Brand to import his methods to the A's. The goal isn't to find individual replacements for their stars; it's to find suitable alternatives whose collective abilities will outperform their predecessors'. Since they can't sign superstars, they go after players who fit their system; instead of getting an expensive free-agent first baseman, they sign former catcher Scott Hatteberg (Chris Pratt).
The season starts dismally as the A's end up 20-26 in the middle of May. Eventually, however, as the players get used to the new school of thought, they begin to shift their focus of play and the team slowly improves in the standings. They then go on a tear, winning nineteen in a row and shoot for a major league-record twenty consecutive wins, ultimately hoping to lead to a World Series title.
The film underwent a pretty difficult road to production. Steven Soderberg was initially slated to direct, but was released after the studio felt he strayed too far from the concept. Fortunately, the producers managed to get Aaron Sorkin to work on the script.
The film simplifies the concepts of moneyball, which works both for and against it. I'll split my thoughts here into two separate schools.
First, for those who aren't super into the statistics and analytic discussions, the film is pretty accessible. There are moments of poignancy, and the ideas that Beane and company try to incorporate are at their simplest. The film isn't meant to be a discussion on the right school of thought to use; rather, sabermetrics are simply used as the platform on which the movie builds.
Those who are into baseball more than others might find the simplification to be too…well, simple. Throughout the film, Beane dismisses notions such as fielding percentages and speed, which sabermetrics actually tend to incorporate into the overall analysis of a player's effectiveness. It's also pretty obvious some liberties were taken for the sake of the film: I highly doubt too many general managers would offer a major league contract to a player suffering from nerve damage unless they underwent a full physical, but Beane plops down a contract on Hatteberg's table without a second thought. It also completely downplays the A's scouts and their impact on building a winning a team.
Still, it's a pretty engrossing film. As with any other project written by Sorkin, there' s a lot of dialogue; there is surprisingly little baseball action throughout the first half of the film other than interspersed highlights showing the progress of the team. The dialogue, however, is funny and quick, and the scene in which Beane leverages a trade using other general managers is a classic. I do wish they would have had just a little more baseball action, however. The film sets up Hatteberg to be a vital character, but other than a few scenes, he's pretty much nondescript.
Pitt gives a stellar performance, and Hill isn't too bad in a change of pace from his usual comedies. The rest of the supporting cast, unfortunately, just seems to be there. Philip Seymour Hoffman is pretty much completely underutilized as manager Art Howe.
If you're put off by the idea of Moneyball being a baseball film, don't be. Baseball is pretty much just the vehicle for the focal point of the film, which focuses on the impact a person can have on an industry, and vice versa. It is, in a way, to baseball what Almost Famous was to music; it's vital to the story, but it isn't the central point. The last half of the film picks up the pace, and the effort to win the twentieth consecutive game pretty much plays out as it did in real life; as unbelievable as the game might seem, the sequence of events and the final at-bat were done accurately.
Moneyball was a pretty entertaining film, and I think all my friends who went with me, Lauren, Nick, and Liz, seemed to enjoy it, albeit for different reasons. There's a lot more to the film than I've written here, but I think that at over 1,000 words, I've written enough. The film's entertaining, smart, and funny, and as long as people aren't expecting an in-depth analysis of baseball and the A's 2002 season, they won't be disappointed.
Moneyball gets an A-.