Review: 'Moneyball' Starring Brad Pitt, Jonah Hill, Phillip Seymour Hoffman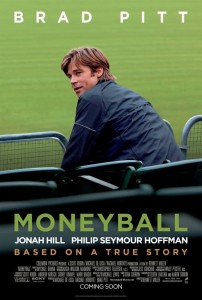 Easily one of the strongest films so far this year, Moneyball tells the story (based on actual events) of Billy Beane (Brad Pitt), General Manager of the perennially underfunded Oakland A's. When Beane finds his team poached of its best players at the end of the 2001 season, he decides to take a radically different (not to mention demonstrably more cost effective) approach to selecting players. He teams up with Yale economics grad Peter Brand (Jonah Hill) and together, with the aid of intense data mining, they completely rethink what makes a player valuable. Gone are antiquated statistics about stolen bases, RBIs and batting averages. Instead, they focus on things such as on-base percentage and slugging percentage. The A's had the second lowest payroll in the MLB at the time and general consensus was that Bean and Brand (a fictionalized version of real life Assistant GM Paul DePodesta) were a head full of crazy.
Directed by Bennett Miller, the film is a classic underdog story. He keeps the tone low-key but interesting, thanks to a strong script and witty dialog courtesy of Steven Zaillian (Gangs of New York) and West Wing creator Aaron Sorkin. Pitt and Hill have a great chemistry together and both are excellent. Make no mistake, this is Pitt's movie. But Hill is a revelation in an understated performance as the team's reluctant Assistant GM. He still gets laughs, but they come from the character he creates instead of the pre-fab comedic persona he normally brings to a role.
In the interest of full disclosure, I hate sports. Ok, maybe "hate" is too strong of word. "Hate" should be reserved for things that are truly evil – like racism or famine or Nancy Grace. So how about we just say that I find sports tedious. And, as sports go, baseball is one of the more tedious. Perhaps the only thing more mind-numbing than a game of baseball is math. So imagine my excitement upon hearing the plot of Moneyball.
But the film is a fascinating look into the thought process behind selecting the grown men who play a children's game. And you need not be a baseball fan to enjoy the film. In fact, non-sports fans might enjoy it even more, given the fact that it's essentially the story of math nerds upending everything that the jocks believed to be true about the game they thought they knew. And while sports-film purists could find it a little light on actual gameplay that might actually be for the best, since they're the ones who probably already know how the games turn out. But don't worry. Games are played. But all the real action takes place in an office or on speakerphone. And you won't feel cheated one bit.
On a scale of 1 to 10, with 10 being Eight Men Out and 1 being The Bad News Bears Go to Japan, Moneyball gets an 8.
[hdplay id=416]