State of Play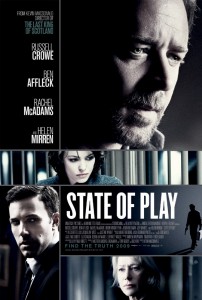 This film has recieved a combined score of 7.75/10
The film stars off with a murder. Sounds like a good start to a mini-series so far. We then cut to the star of the film, Russell Crowe – playing a well seasoned journalist who still does things the old fashioned way. Cruising along in his old Saab, singing to the music while he pours Cheetos into his mouth from the bag. He actually pulls off the role quite well. It was during this scene that I actually thought about how good of an actor Russel Crowe is, as he can play everything from skin head to Hollywood heart-throb, as well as an "every man" journalist. Anyway, back to the film.
In a day in age where newspaper sales are dwindling, and printed media is turning into blogs and twitter, it was surprising how interesting the film turned out to be. In fact the film brings back a sort of nostalgia, the likes of which we could not feel if the main character were driving around tweeting from his iPhone. In the film, Cal McAffrey (Crowe) enlists the help of a young blogger (Rachel McAdams) that works for the online division of his paper – to help him get the scoop on a developing political scandal. We learn that a congressman was having an affair with a girl that was just murdered. Sounds believable for Washington, right? But wait… there's more. Congressman Stephen Collins (Ben Affleck) happens to have been the college roommate of McAffrey. Although their friendship has dwindled, they still share a certain bond due to their history. At this point in the film, I was starting to understand why this was created into an entire mini-series.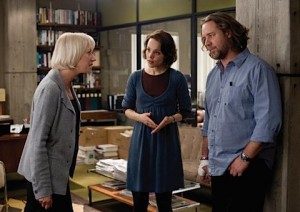 At times the film felt a bit slow, but overall the pacing was decent and kept the viewer interested in what was going to happen next. The cast was great, and even included a small role from Jason Bateman (although he did have a very large and entertaining presence on screen as usual). Collin's wife is played by Robin Wright Penn, probably most famous for her role as Jenny in Forrest Gump. Her character goes through a huge range of emotions throughout the film, having to first deal with her husband's affair and the tangled web of aftermath. Rachel McAdams did a decent job playing a technologically savvy reporter, although became increasingly annoying as we watched her argue and butt heads with Cal – who we grow to like more and more throughout the film. Crowe's performance is very believable, and the character is consistently likable. He makes you feel like you are right there with him, and your curiosity grows with his as he tries to write his story.
The film has a great balance between action, drama, and humor. I think that the movie is something different than most of what is out now, and it is a nice change of pace. Although it is a political thriller, it is not so dry that it becomes stale or dry. Because of the likable characters and a good amount of intriguing plot twists, State of Play is sure to entertain
I give State of Play a 7 out of 10.
Zac's Take on State of Play
This journalistic thriller keeps the intensity and intrigue from start to finish, and when coupled with some excellent performances across the board you have a pretty good picture when it is all said and done.
Cal McAffrey is a journalist for the Washington Globe, which also happens to be a sinking ship of a medium as the days of newspapers are quickly dying out in today's internet fueled news world. That doesn't keep Cal McAffrey from trying to still be a good reporter though, bribing cops and bending the rules for his stories, Cal is of the old school ilk of news reporters; and he gets what he wants. Cal is in the process of investigating a possible drug related murder that we witness in the opening of the film, when news breaks of Congressman Stephen Collins aide dying on the subway system on her way to the hearings she was chief investigator on that was probing a company profiting off the wars in the Middle East and Afghanistan by privatizing the war effort. The death of this aide, Sonia Baker, quickly turns into scandal as rumors/news of an affair with Collins quickly comes to the surface. We discover that Collins and McAffrey were college roommates and that an aspiring blogger at the Washington Globe, Della Frye, might turn out to be a thorn in Cal's side as she tries to dig up info on this Sonia Baker. Della and Cal's editor Cameron thrusts the two of them together though, as she tries and exploits Cal's relationship with Collins to get a story to help her sell her newspaper. As Cal reluctantly works with Della, he begins to put threads together connecting Sonia's death to his drug murder and a possible conspiracy to ruin Collins credentials and stall his investigation probe.
The filmmaking at work here by Kevin McDonald, director of Touching the Void and The Last King of Scotland which you should rent both immediately, is as top notch as his previous efforts. The film has bits of humor, moves along at a very nice pace and twists and turns enough to keep you on your toes all the way till the finish. That isn't to say there aren't a couple of to coincidental incidents along the way, but they aren't glaring or big enough to dampen the picture as a whole or ruin a mostly cohesive story. McDonald does a great job of threading in political corruption, investigative journalism, and the decline of the newspaper without preaching about anything and striking a nice balance of these things giving them just the right amount of screen time to remain effective without being overbearing. The only thing that really didn't work for me was the love triangle angle they try and play in the picture that seemed unnecessary except to drive tension between two characters. It works in the story, it just didn't seem believable on the effects it would have had on the characters involved.
The acting in the film is also very fine across the board. Russell Crowe plays Cal McAffrey and brings a bit of sleaze, plenty of drive, and the heart of a news reporter to the picture that allows him to show command in the world Cal is in control, while bringing fear when his life might be on the line. Crowe never ceases to amaze me with his work and is constantly superb in every picture he is in, and that trend continues here. Ben Affleck continues down the comeback trail with another solid acting turn as Congressman Collins. He is cunning and scarred all at once, and you can really feel his emotions as the layers come down around his relationship with Sonia and his attempts at reconnecting with his estranged wife. Speaking of the wife, Robin Wright Penn plays Mrs. Collins and while limited in screen time, she does a fine enough job at filling her pieces to the puzzle. Rachel McAdams brings some new school way of thinking and youth to the proceedings as the up and coming Della Frye, though she is unfortunately tagged with the duty of being the emotional reaction to the proceedings in the middle of the picture. Thankfully in the final act they mature her into a reporter that is willing to go farther then she was in the beginning, and gives her a deserving arc. Jason Bateman is fantastic and hilarious as a sleazy publicist that might push the story to the next level and give them the closure they need for their story; one just wishes he was in the picture more. Jeff Daniels also has a nice turn as a grouchy and conniving politician that is the head of Collins unnamed party in the Congress. Lastly, Helen Mirren is great as a fire breathing editor that is being pressed on by a new corporate ownership that wants newspapers sold and doesn't care about the story per say. She is great at giving her reporters a shot while still letting them know we are a business first now and the times are changing.
In the end, State of Play is a solid investigative thriller that has a lot going for it. Great cast, timely story, and excellent filmmaking. Though, it is lacking something to call it truly great, whether it is an amazing twist, the fact that the story is fictional, or something else, it is short of A material, but will not disappoint most who see it I imagine. There is a lot of stories to attach to here, and one wonders if this film might have had a different effect on people had it been released during the Bush administration and would have gotten out before the newspaper crisis started rolling into its current state this year. Either way, it is well worth your time, and keeps McDonald and Crowe on a successful roll in each of their respective careers.
8.5/10