Star Wars: The Old Republic Trailer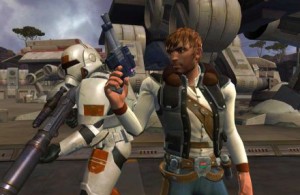 Star Wars geeks rejoice, there is an MMO coming from the same people who gave you Star Wars: Knights of the Old Republic. This trailer is brand new. My first thoughts upon seeing it were, 'Well, there goes a couple hundred hours of my life.' If you played the KOTOR games you know how addictive they can be and just how good Bioware is at telling a story.
I've tried other MMOs including Star Wars Galaxies and World of Warcraft and they were fun for a short bit they got tiresome and boring after while. Bioware's games always make me wish there was more I could do. I don't want their games to end. So this shall be interesting to see just how much time they can get me to waste on my computer (like I could really waste that much more?).