Star Wars Geeks Unite: Pre-Order Starts for "The Old Republic" and Droid Themed XBOX360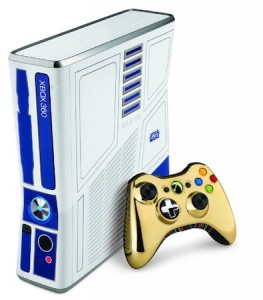 Apparently someone decided my day should be filled with daydreams of Jedi vs. Sith battles, because I've been bombarded with Star Wars themed merchandise today. It started this morning when I woke up to see the Star Wars: The Old Republic pre-order has begun. I promptly opened a line of credit so I could purchase the $150 Collector's Edition, to firmly label myself as a geek. Then later in the day Kevin sent me a link to Star Wars themed sandwich cutters, which luckily I was strong enough to not buy. Now he has tempted me yet again, with a new Xbox360 that is designed after the series two famous droids, R2-D2 and C-3P0. Luckily for me my current Xbox is still running strong, so I don't have to drop the money on something I so needlessly want.
Sites really need to add a button that says, "SHUT UP AND TAKE MY MONEY!", because I found myself saying this way too often today. Please let the bombardment stop!
So far EA/Bioware's Star Wars: The Old Republic MMO is without a release date, but it is currently listed as Holiday 2011. I'm expecting a mid to late October 2011 release, otherwise they will be competing with Bilzzard's Diablo III, which could easily take over the market that craves the Star Wars MMO.
I do suggest pre-ordering the game, because the pre-order gives you early access to the game. Also, if you are in the STL area, make sure to sign up for my St. Louis themed guild, The STL Jedi (bastards wouldn't let me use STL Knights).
Pre-order The Old Republic here:
Pre-order the Star Wars Kinect Xbox 360:  $449.99