St. Louis Rams Prepare to Open 2013-2014 NFL Season
The NFL is back!  Every year the first weekend of August marks the unofficial kickoff of the new pro football season with the Hall of Fame Game.  With this game, the six month long separation between football and fans ends and the new season begins.  Also during this time, NFL teams are wrapping up their training camps, preparing to move into preseason workouts.
For the second year in a row the St. Louis Rams concluded training camp with "Fan Fest."  This year's event allowed fans the opportunity to tour the locker rooms, attempt a field goal, test their passing accuracy, or just hang out on the field. 
The Rams also allowed a limited number of fans to attend a Q & A session with team executives Kevin Demoff (VP Football Operations and C.O.O), Tony Pastoors (Senior Assistant) and Les Snead (General Manager).  Needless to say, you know where I spent my time at this event. 
I had the opportunity to ask Demoff what the internal expectations are for the 2013 season.


"To host a home playoff game," Demoff stated.  "I would be ecstatic with even a wild card game, but the goal is to have a playoff game in this building."
"At the end of the day it doesn't matter what the record is.  Whether it's 8-8, 9-7, 10-6, or even 9-6-1; it's to win the NFC West and host a playoff game," Pastoors added.
In order to achieve (or even get close) to those goals, the Rams are going to need a big impact from their new talent to complement last season's strong defensive effort with a down-the-field offense that translates into points.  The Rams have to improve in the red zone and on 3rd downs.  The team ranked in the bottom half in red zone touchdown percentage at 51.35%, and Rams quarterbacks had a red zone passer rating of only 74.7, which was 27th in the league.  Additionally third down conversion percentage was only 32.1% (29th in the league), and 26.37% of the time the Rams had a three-and-out, the 5th worst percent in the league.  When asked about how the Rams would improve the offense, GM Les Snead said, "I told these guys (scouting and personnel staff) 'go find people to score touchdowns.'  The more weapons you can get on offense to make the defense try to figure out where to go, the better."
These new Rams include key additions:  Jake Long, Jared Cook, Tavon Austin, and Alec Ogletree.   This group will have to replace several key players lost including Steven Jackson, Danny Amendola, and Quintin Mikell.
Key Additions
Jake Long    Offensive Tackle    6'7"    319 lbs    28 years old

The Rams secured a dire need when they signed Jake Long this offseason.  Long is a former number 1 draft pick and 4 time Pro-Bowl player and should provide some stability to an offensive line that has had over a dozen different starters in the past two seasons.  The Rams made protecting Sam Bradford a top priority this offseason, Les Snead commented, "We kept Jake in town for 4 straight days; we were not going to let him leave without a contract." He then joked, "With a big guy like that, after four days the worry is he is going to run out of clean underwear.  We were afraid we would lose him because of dirty underwear."  They didn't lose him; instead he signed a 4-year, 36 million-dollar contract.
Jared Cook    Tight End    6'5"    248 lbs    26 years old

Jared Cook was the top tight end free agent available and should add both speed and size to the Rams' passing attack.  Cook has 4.49 speed in the 40-yard dash and can line up both in and outside the box.  He is also the largest Rams receiver and should be a weapon down by the goal line.  When I asked Les Snead what he thought about Cook, he commented, "Sometimes the defensive coordinator just gets it right; they call the right defense and no one is open for Sam.  I like to use the analogy 'throw it up and let the big guys pull down that rebound.'  It's nice to have a big guy with long arms to go up for that ball."  I look for Cook to fill the void left by Danny Amendola as Sam Bradford's safety blanket underneath.
Tavon Austin    Wide Receiver    5'9"    174 lbs    22 years old

In a word, explosive.  Tavon Austin was the 1st round selection of the Rams in this year's draft.  They traded up to the 8th spot to select him.  Sometimes I feel foolish getting so excited about a guy who has never played a down in the NFL, then I go back and watch some game film from his senior season at West Virginia and become giddy all over again.  Austin has 4.3 – 40 speed, a skilled punt and kickoff returner, and an accomplished wide receiver.  In both his junior and senior collegiate season, he had over 100 catches and over 1100 yards and was an All-American each season.  The national writers are comparing him to DeSean Jackson of the Eagles.  Opposing cornerbacks will have their hands full (or at least be very winded) having to chase Austin and fellow wide receiver speedster Chris Givens 50 yards down the field.  Even if the two are not hauling in the catches, it should open up the middle of the field for the aforementioned Cook or Austin's former West Virginia teammate Stedman Bailey, whom the Rams selected in the third round of the 2013 draft.
Alec Ogletree    Linebacker    6'3"    232 lbs    21 years old

I would be remiss if I only focused on the offensive side of the ball; the defense got a brand new toy as well.  Alec Ogletree was the second selection the Rams had in the first round of this year's draft (30th overall).  Ogletree should jump right into a starting role in the Rams 4-3 defense, probably suiting up as weak-side linebacker.  Ogletree had 111 tackles his senior season as a Georgia Bulldog.  Group that with the 142 tackles last season by middle linebacker James Laurinaitis and the 114 tackles by strong-side backer Jo-Lonn Dunbar, and you have a very potent linebacker corps.  Ogletree has good speed for the position as well, posting a 4.70 second 40-yard dash and should be able to pick up coverage of pass catching running backs coming out of the backfield.
Key Losses
Steven Jackson    Running Back    Signed Free Agent (Atlanta)
Replacing Pro-Bowl running back Steven Jackson is no easy task.  SJ39 holds the Rams' franchise record for most rushing yards (10,135) and has been the face of the Rams' backfield for the last 9 seasons.  During that time he carried the ball over 230 times and rushed for over 1,000 yards every season except his rookie year.  He has a career yards-per-career average of 4.2 and scored 64 touchdowns during his time in St. Louis (56 rush, 8 receiving).  Age may be slowing the 30-year-old running back down a bit, but he did still account for over 1350 total yards of offense in 2012, which will have to be replaced by the platoon of running backs Daryl Richardson, Isaiah Pead, and Zac Stacy.  GM Les Snead is not worried about his running back by committee approach stating, "The position I feel most comfortable at is running back."  He went on to explain that the combination of Richardson, Pead, and Stacy provides a different look for defenses to prepare for.  Instead of just preparing for a power "north-south" back, defensive coordinators now have to be set to stop both power runners and guys who can get outside the tackle box.
Danny Amendola    Wide Receiver    Signed Free Agent (NE)
Danny Amendola at times was brilliant, and at times injured.  When he was healthy he could catch just about anything on the field.  In 2010 he had 85 receptions, and in 2012 he had 63 in only 11 games (he missed all but one game in 2011 with injury).  During those two seasons he averaged over 5 catches and 50 yards a game, which may not be hard to replace statistically, however what will be difficult to replace is the intangible value he had as QB Sam Bradford's safety blanket.  Bradford and Amendola had chemistry; the question now is who can step up and fill the role as the guy Bradford can check down to or change to a hot route Bradford can hit while back-peddling two steps.  One reason Jared Cook was brought in was to fill this role, but some early indications out of training camp are that Brian Quick may fill in nicely.  Quick was drafted in 2012 and had a slow rookie season–not uncommon for players drafted from smaller colleges.  After a year of learning it looks like Quick is poised to take a more prominent role in the offense and could be a good middle-of-the-field receiver.
Quintin Mikell    Safety    Unsigned Free Agent
The biggest weakness for the Rams going into the 2013 season has to be at safety.  In a salary cap move, the Rams released their best safety from last year, Quintin Mikell.  Mikell was scheduled to make $9 million this season and the Rams needed to free up some cap space, which meant cutting ties with the veteran safety.  The problem, there is really not a lot of depth at the position.  The move leaves the Rams with Darian Stewart and Rodney McLeod to field the position, with T.J. McDonald, the Rams third-round choice in this year's draft, also likely to see some playing time. 
The Future of the Franchise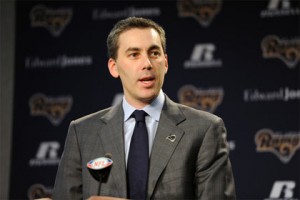 The 2013 Rams were not the only topic of discussion on Saturday.  The franchise in years to come both on and off the field was also addressed by Kevin Demoff.  The Rams are the youngest team in the NFL, and with a multitude of draft picks in next year's draft, building a strong team both now and in the future is a realistic option.  When asked about that possibility Demoff stated, "We are not built as a team to sneak in one year and then take a step back the next year…The greatest travesty is that the 'Greatest Show on Turf' team was only together three years.  We will not make that mistake.  We are building this team for the long run, eight-ten year, success."  He continued, "This is a consumer-driven market and I don't want to be known for anything except being the best football team and organization." 
He refused to comment on if that future would be in St. Louis or not, however, when asked if Missouri Governor Jay Nixon and Rams' owner Stan Kroenke have had any face to face meeting regarding the Rams staying in St. Louis.  Demoff stated, "Neither side is willing to disclose the process.  If a deal is going to get done it is going to get done behind closed doors. "  He added, "One thing we learned during the arbitration process was what things we can do to make a better experience for fans."  My own answer to that:  win!   Yes, the stadium needs a lot of upgrades (please, a new sound system) but the best thing you can do to improve the fan experience is win.
St. Louis Rams 2013 – 2014 Schedule
The Rams kick off their 2013 schedule Thursday night with a pre-season game in Cleveland.   The regular season opens on September 8th at home versus Arizona.  The rest of the Rams schedule is as follows:
Home Games in Bold
Week 1 – Arizona September 8th   3:25 pm
Week 2 – at Atlanta September 15th 12 pm
Week 3 – at Dallas September 22nd   12 pm
Week 4 – 49ers (Thursday) September 26th   7:25 pm
Week 5 – Jacksonville October 6th 12 pm
Week 6 – at Houston October 13th   12 pm
Week 7 – at Carolina October 20th   12 pm
Week 8 – Seattle (Monday) October 28th  7:30 pm
Week 9 – Tennessee November 3rd   12 pm
Week 10 – at Indianapolis November 10th 12 pm
Week 11 – BYE
Week 12 – Chicago November 24th   12 pm
Week 13 – at SF December 1st   3:25 pm
Week 14 – at Arizona December 8th   3:25 pm
Week 15 – New Orleans December 15th   12 pm
Week 16 – Tampa Bay December 22nd   12 pm
Week 17 – at Seattle December 29th   3:25 pm
Rams single game tickets are now on sale and can be purchased at stlouisrams.com.